Dear Parents
As we move into the final few weeks of the summer term, I remain totally impressed with the levels of engagement of our pupils in online learning. As planned, all our parents and children now have access to our Group VLE platform. I hope parents are finding the system useful and user friendly. Class teachers will continue to use ClassDojo for non-academic communications and we ask that parents use Class Dojo in the same way. If parents do have any Canvas queries, please make contact with one of our Canvas Champions via Chetan.Mistry@oryxschool.qa
This week, the Early Years Leaders and I had the pleasure of welcoming new parents of children joining FS1 and FS2 to the Oryx family and Mr. Mernagh lead an extremely busy "Support your child with Phonics" Zoom session with over 100 attendees! I am delighted that parents are engaging with these Zoom sessions and finding them useful. Your feedback is very much valued and appreciated.
The next few weeks in Primary will continue to be very busy with end of term reports, parent-teacher and transition meetings. We ask that all parents make an appointment to speak to their child's class teacher on Sunday 14th June to discuss their child's progress and next learning steps. Members of our Inclusion team will also be present at these consultations, where necessary.
We will be in a position to inform parents who their child's class teacher will be in the next academic year (obviously subject to teacher availability). Parents will have the opportunity to meet the new year group leader and our pupils will have the chance to meet and chat to their new class teacher. Please look at the school events diary to note the dates. Zoom invites will be sent to parents nearer the time.
Stay safe
Kind regards
Andrea Smith
We have one final house event for this academic year and this could decide who our overall house winners for 2019/20 may be. Your challenge is to design a house flag. There will be house points awarded for every entry and extra points for the best entry from each year group. We will also have additional points for the house flag we feel captures the school's values and ethos. Entries must be submitted by Thursday 11th June.
There are some guidelines for you to be aware of:
Entries can be on A3 or A4
You cannot use the School or Qatar Airways logo, including the cap, book or Oryx we currently have.
Things to consider:
If your flag was flying on a flag pole, what would you want to be seen?
How big will any words need to be?
What images will you use?
You may wish to include:
The house rocket
Our school values (Responsibility, respect, resilience, risk-taking, ready)
Being a 'five-star school for a five-star airline'
To submit your entries, please email your house captain on the below address clearly stating your name, class and year group.
We are looking forward to all the entries.
Liam Mernagh
Assistant Head of Primary
A very positive week for the Inclusion Team this week. Only three more weeks to go until the Summer Holidays but there is still plenty of learning to be supported. Please remember that the Zoom sessions offered by the SEND and EAL team are not compulsory and engagement is not monitored, however, they are a very useful way for your child to ensure they have followed the class tasks correctly and produced their best work. All of the team are delighted when they get to Zoom with their groups and see their happy, smiling faces.
Please remember, if your child has any worries, concerns or anxieties and would like to talk to someone at school please reiterate to them that they can contact our school counsellor, Mrs Bunmi, at oluwabunmi.tobun@oryxschool.qa. She can also be contacted by giving her a call on 66011301 from Sunday to Thursday between 8:30-9:30am and 12:30-1:30pm. She's always happy to listen and provide reassurance.
Welcome back! In FS1 we splashed right back into our learning and went diving. We swam deep down under the sea, to find out some fun facts about sea creatures. We then crafted our very own sea creature out of materials found around the house. We were introduced to our new text The Singing Mermaid and some of us have discovered what our hidden talents are! In phonics, we continued to learn about sounds that have a special friend and in maths, we had to create a simple pattern.
Next week we will focus on segmenting and blending Set 1 Green Words and complete maths based activities to do with patterns and again explore objects which float and sink.
We are really proud of all the children in FS1 for working extremely hard as always.
We have been so busy in FS2 this week and had lots of fun.
In literacy we have been continuing with our story Little Red Riding Hood, children made some fantastic role play boxes using different materials from around the house. The children also created wanted posters for the Big Bad Wolf who went missing!
In maths we have been looking at repeated patterns, the children used their imagination to find things from around the house that they could make into a pattern. We have also been thinking about different environments, we have looked at pictures from our holidays in the past and compared the similarities and differences.
Year 1 had a fantastic first week back of home learning after our Eid break.
The children have continued learning about the story of SuperTato and completed some excellent sequencing in English and in maths they worked super hard completing money problems.
In art this week, the children had to create their own SuperTato and I think they did a fantastic job.
It's been an exciting week in Year 2. We've fully moved over to our new learning platform and have been so impressed with the work that has been submitted! We investigated where the warmest place in our house was by making ice and seeing how long it took to melt in different areas in the house.
In English we created some amazing poetry about Romans. We so enjoyed listening to our boys and girls reading their poems.
Next week in maths we'll be focusing on Multiplication and Division and in Topic we'll be looking at Roman mosaics.
This has been a fantastic welcome back for year 3. We are very impressed with the quality of characters created and the effort showcased in maths whilst recapping the tricky 'Bus Stop' method! We are proud of each and every one of you, keep up the hard work!
Next week, we will be creating our very own creative story! Stay tuned.
It has been a great few weeks for Year 4! We have now transitioned over to CANVAS and we must say how impressed we all are with the children's adaptability and resilience in coping with the changes. Many of the classes have moved over seamlessly and it has not affected the usual, high standard of work submitted on a daily basis.
We all had a relaxing break and are now prepared to resume our learning. This week we created some fantastic acrostic poems on the rainforest using lots of figurative language. We have enjoyed creating these poems and had lots of fun with colours! We also started to learn and identify the features of a newspaper which we will continue for next week.
In maths, Year 4 have been using the grid method to multiply two by two digits. Amazingly, many skills are required to complete these calculations; use of timetables, adding, using the column method for adding, learning the steps and much more. we have been practicing and consolidating our mental maths skills and learning our timetables.
In science, we continued our 'Living Things and their Habitats' topic and we learned how to group animals. We used a variety of methods such as Venn diagrams and charts to categorise the organisms by their characteristics.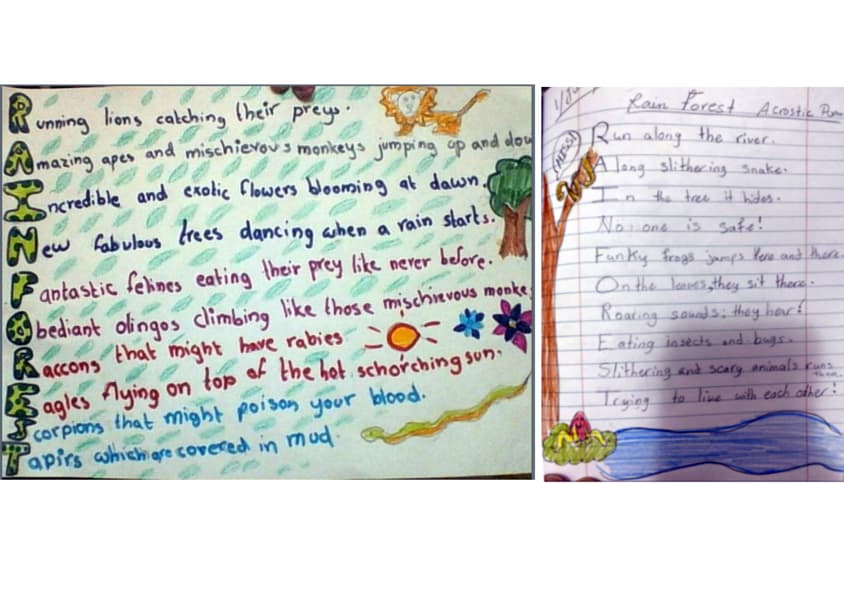 This week in Year 5, children looked at the features of explanation texts. They designed their own multi-function robots and wrote clear explanations on how to use these. Students made sure to include technical vocabulary, time connectives and interesting names.
Next week, our English focus will be on non-chronological reports.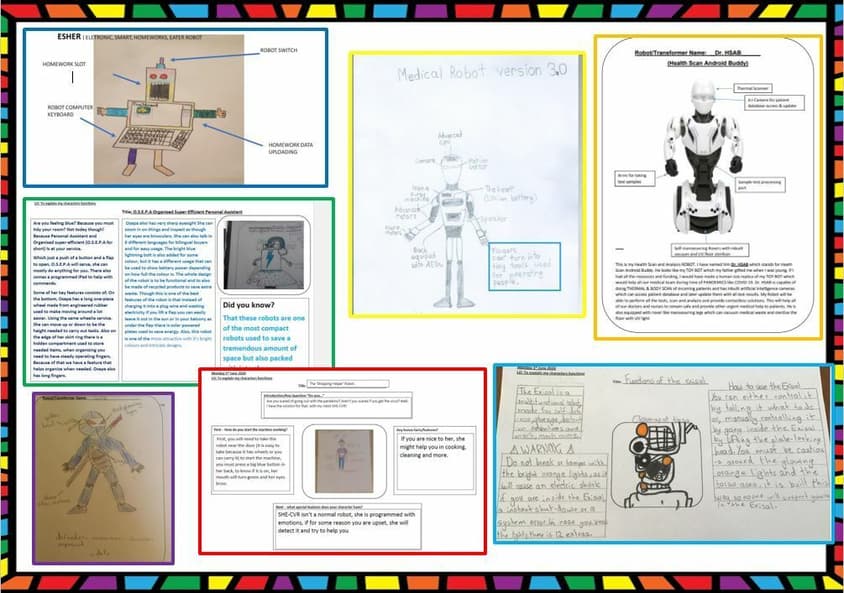 I hope everyone had a nice relaxing break and some well-deserved time away from the laptops. This week, we have been working very hard learning all about the wonderful techniques Roald Dahl used to create some of his best books. The children had the opportunity to create new characters for Charlie and the Chocolate Factory using a combination of amazing adjectives and engaging language. They also had the opportunity to write about different settings within the context of Danny, the Champion of the World.
In maths, the students focused their skills to solve area and perimeter as well as time challenges, which I always found challenging in school. In science, they completed research projects on the impact that plastic has on humans. The children created some wonderful posters on the impact plastic is having on our planet and what we can do to stop this devastating problem. Overall a great week of learning, and us teachers are very impressed with how well you are working and pushing yourselves to improve the standard of your work!
Have a great weekend, and keep safe.
It is wonderful to see our students active and interacting through distance learning.
They have learned many skills in the three compulsory subjects (Arabic - Islamic Education - Qatar History).
Thank you to all the families for your continuous assistance, which helps us achieve our goals, as well as assist with increasing the level of competence, capabilities and skills of our students in their learning.
This week in our primary MFL lessons, Year 3 students had a brilliant time creating their family trees in French! Miss Hernandez loved looking at your colourful and creative designs and we can't wait to see what your imaginations come up with next week!
Year 6 are lucky, as this week they started learning about theme parks through French.
Years 1 and 2 are now settled in Canvas and Ms. Miguel presented some fun work for you on "Les fruits".
Quel est ton fruit préféré? Moi, j'adore les fraises !
Thank you to everyone who sent in their performance before Ramadan. The videos will be shared on social media soon.
We have had some fantastic videos sent in this week of children performing their fruit rhythm patterns in KS1 and the cup song in KS2. You all performed some really great rhythms. Well done everyone!
Next week we will be looking at reading rhythms.
Have a great weekend!
Greetings from the PE Department! I hope everyone has had a relaxing Eid break and that you are all ready to get on the move again.
We are now into week 6 of our PE challenges and we have had some brilliant entries so far and a lot of fun watching you all stay competitive. They will be posted every Sunday on your class page so make sure you have a look and get involved.
Next week in PE, Year 1&2 are going to work on their kicking practice with the ten pin bowling games.
Year 3&4 will be busting out their best dance moves and working on dance routines.
Year 5&6 will continue to bring their fitness A game and will focus on the different components of fitness and when we use each of these.