Dear Parents,
Thank you for the continued messages of appreciation that are still coming into staff despite 'Teacher's Appreciation Week' being over. These boosts mean so much to the members of staff that receive them and it is a reminder to us all to show our appreciation and thanks to the people in our lives that have a positive impact on us.
For our Year 3 and Year 4 pupils and parents, the migration to the new VL platform Canvas, has been fairly smooth this week. We absolutely appreciate that the younger the pupils are the more support and help their parents will need to give them. Please remember that our Canvas champions and nominated teachers are here to help and advise parents in order to make access to the new system as easy as possible. I can assure you that once we are up and running, parents and children will find the new system an easier platform to use. On Sunday and Monday of next week, Year 1 and Year 2 will migrate over and then the Early Years parents will have access by the middle of next week. My sincere thanks to the staff for their time and effort in managing this new system and to the parents who have embraced and supported the migration as a positive move forward for our pupils.
Transition is a high priority for us in primary and already, Year 5 pupils are starting to think about moving into Year 6 and all that will bring. This week, Year 5 pupils have been asked to "apply" for the leadership roles they will be undertaking in Year 6. We look forward to seeing their letters of application!
On Sunday 17th May, our Year 6 pupils are having their first transition session into Year 7. Mr. Haggarty and the Year 7 Leader will be hosting Zoom sessions for the pupils to find out about life in our secondary school. The pupils will be invited to the Zoom session via the zoom invite link that will be put up on each class Canvas page.
Timings are as follows:-
9 am – Year 6A
9.30 am – Year 6B
10 am – Year 6C
10.30 am – Year 6D
New pupils to Oryx will have their session at 11 am.
Thursdays will take a slightly different shape in primary as from this week with English and maths lessons posted by teachers being a revision of the skills that have been taught during the week. Children will be using sites such as Read Theory, Bug Club and Mathletics to consolidate their learning. Zoom sessions will continue as per the published timetable. One of the additional activities for the day can be chosen from the Oryx Occupier.
Over the next few weeks, there are a number of Zoom sessions parents will have access to. Please have a look at the events diary (sent last week to parents or accessible via the website) to see the sessions that are available.
Stay safe.
Kind regards
Andrea Smith

Another really good week for the Inclusion Team and those students who have been participating and contributing in our Zoom sessions. The engagement in these sessions has been gradually increasing week on week – we are looking forward to having a full complement of students attending in the very near future. Some tasks set by the class teacher are always going to be more challenging than others – all we ask is that your child tries their best, but don't put unnecessary pressure on yourself or your child to complete every single task perfectly.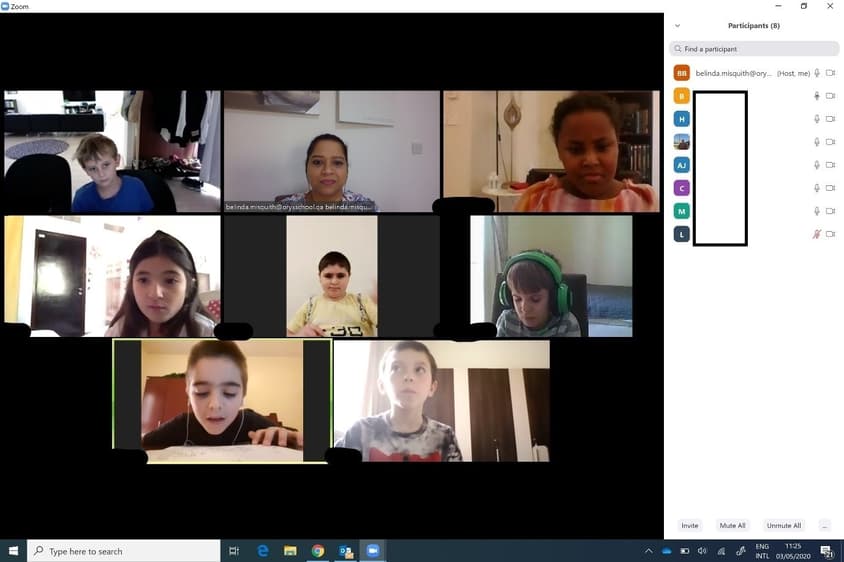 Please remember, if your child has any worries, concerns or anxieties and would like to talk to someone at school please reiterate to them that they can contact our school counsellor, Mrs. Bunmi, at oluwabunmi.tobun@oryxschool.qa. She can also be contacted by giving her a call on 66011301 from Sunday to Thursday between 8:30-9:30 am and 12:30-1:30 pm. She's always happy to listen and provide reassurance.
Mrs. Bunmi, our School Counsellor, is running a parent workshop on supporting your child to use social media safely. This is workshop is open to all parents. To join the event please click on the below Zoom invite at 08:45 am on Sunday 17thMay.
Oluwabunmi Tobun is inviting you to a scheduled Zoom meeting. Supporting your child to use social media safely.
Join Zoom Meeting
https://us04web.zoom.us/j/78928594225?pwd=UnFTRWhLRHo1QnVnWGlsZ0l5TzVBZz09
Meeting ID: 789 2859 4225
Password: 020689
In FS1 this week, we have been working hard to create our own pirate treasure maps! We played lots of pirate games with our families, learned new sounds in phonics and have been investigating heavy and light objects.
Next week, we will begin to learn about 'special friends' in phonics, discuss Eid, share stories and explore objects which float and sink.
Well done me hearties!
This week in FS2, we have been taking part in various activities based upon the story of Goldilocks and the Three Bears. We used our investigative skills and looked at changes that occur to oats when liquid is added by making and tasting our own porridge. In Literacy, we used adjectives to describe the characters in the story.
In Math we made Pictograms to show the toppings that everyone liked on their porridge, honey and jam were the popular toppings! We have been very artistic and have created drawings and paintings of the characters. We also created our favourite scene from the story using toys and objects from around the house.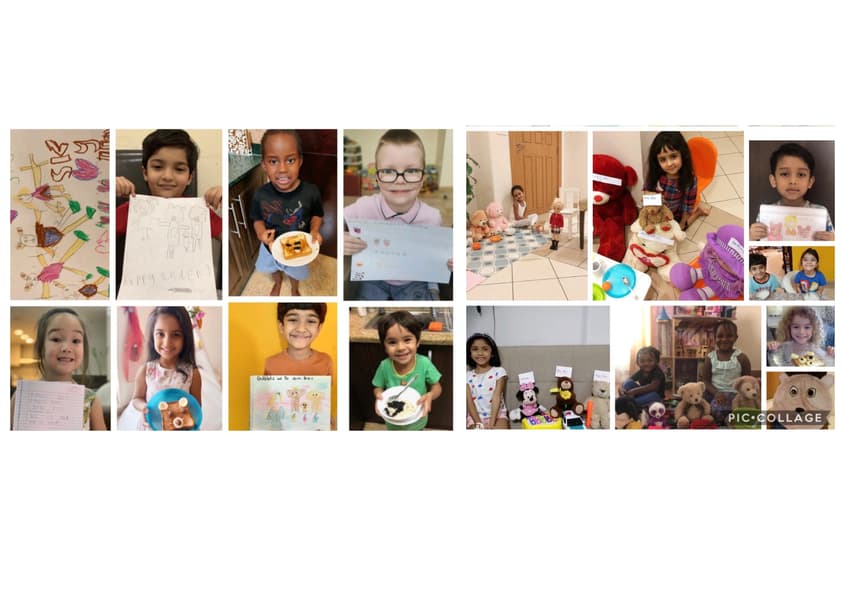 Year 1 had a very busy week of fun e-learning. They turned themselves into superheroes for our Topic lesson and bright, colourful pictures filled the Dojo Portfolios. Forces, such as pull and push were revised in Science this week.
In English, we read a new book called 'Supertato' and the students made character profiles for two of the main characters; Superato and Evil Pea. They came up with amazing, smart questions to ask their favourite characters and they even sequenced the story.
In Maths, we focused on time and block graphs. We used clocks to learn o'clock, half past, quarter past and a quarter to. We then learned how to convert and recognise time on a digital clock.
Well done Year 1 for all your hard work. Keep it up.
It has been a very busy week in Year 2. We have been continuing our work about the Romans for English and Topic, learning about fractions in maths but most importantly changing materials in science! Year 2 have been food scientists experimenting at what happens to certain foods when they are heated. All the children have had lots of fun and we have some excellent bakers in the year group!
In Year 3 we have been embracing Canvas this week and so far, so good, we have been up and running relatively smoothly. Fingers crossed this continues as we become more accustomed to navigating our way around the platform.
As part of our English curriculum, we have been focusing on recognising the features of a postcard and then writing our own. The children have produced some fabulous work and hopefully, they will be writing real postcards sometime soon!
In Maths we have been learning different strategies to multiply. Initially, looking at partitioning numbers and using the grid method before moving onto the column method of multiplication.
Next week we will be looking at debating and division.
We have now transitioned over to CANVAS and we must say how impressed we all are with the children's adaptability and resilience in coping with the changes. Many of the classes have moved over seamlessly as we all continue to develop our IT skills.
In English this week, children have been looking at shape poems linked to rainforest animals. The children have demonstrated their knowledge of descriptive language to produce high-quality work. In Topic, we developed this further by learning about the different layers of the rainforest. In maths, the Year 4 pupils developed their understanding of multiplication up to four-digit numbers as well as adding and subtracting fractions with the same denominator.
At this point, we would like to wish everyone a safe and carefree weekend. Our thoughts especially go out to those of you who are fasting during the holy month of Ramadan.
This week Year 5 have been very busy writing their own stories building mystery and suspense. They have used our class text of 'The Iron Man' to help them with this. We have some fantastic imaginations in Year 5!
We have also had lots of fun using Oreo's to investigate the moon. Next week we will have mOreo fun practicing our addition and subtraction skills.
Another fantastic week in year 6 completed! From writing letters to creating detailed adverts and now detailed written explanation texts this week we have become excellent persuasive writers! Students in year 6 this week have worked extremely hard on planning and then finally putting together a detailed explanation text on how a pheasant trap works using detailed description and a range of causal and temporal verbs.
In maths, this week students perfected their knowledge on fractions. They worked on simplifying, changing improper fractions to proper fractions, adding and subtracting fractions with different denominators to solving problems involving ratio.
In science, they completed research projects on the impact that different diets have on our wellbeing in both the long and short term. Overall a great week of learning, and our teachers are very impressed with how well you are working and pushing yourselves to improve the standard of your work!
Have a great weekend, and keep safe.
Arabic, Islamic Studies and Qatar History
It really was an amazing week for our students, they interacted extremely well during their lessons.
Primary school students have acquired many skills, such as spelling, learning new information about Qatar and the facilities that the state undertakes for citizens and residents.

Our students are making impressive progress in reaching the highest levels of learning.
Thank you to our parents for their constant support to help their children succeed in their learning.
This week in our primary MFL lessons, Year 6 students conducted an interview with their future selves in French! Many students were also able to push themselves by giving their opinions on various topics. Miss Hernandez says well done to Year 5 Spanish students for adapting to Canvas
Year 4 students have really enjoyed playing games to learn the different colours in French
Years 1 and 2 will now be moving to Canvas next week which will mark the entire school's transition to this new platform. Learning about Fruits has been really fun so far and Miss Miguel can't wait to show you more on this topic next week!
Greetings from the PE Department! I hope everyone has had a great week staying active and on the move.
We are now into week 4 of our PE challenges and we have had some brilliant entries and a lot of fun watching you all staying on the move by trying these challenges. They will be posted every Sunday on your class page so make sure you have a look and get involved.
Our PE teachers have been working hard to ensure your PE lessons have a variety of different tasks and you get a chance to develop new skills each week. As some of our students are fasting throughout the month of Ramadan, we are including tasks that do not involve physical activities but allow you to learn about health and the human body. We encourage all of our students to give them tasks a go.
This week students in Primary some year groups were learning how to develop their shot selection in tennis, completing the Gherkin challenge which involved a lot of steps to climb and demonstrating our fitness levels in some workouts.