Congratulations to our Year 11's. Our first cohort of I/GCSE candidates have done themselves, their parents and their school proud. This summer's I/GCSE examination results, secured against a backdrop of closure, unique circumstance and significant Examination Board and political confusion, are a testament to the resilience, work ethic and tenacity of a special group of people - our Year 11's of 2020.
The process of securing grades in 2020 involved significant in-school moderation of outstanding teaching and assessment evidence. The robustness of our processes at Oryx was more than justified by the fact that 177 out of the 178 of our Centre Assessed Grades were upheld. The single change was a solitary grade which was increased! Therefore, in retrospect, our students were not hostage to the process covered in the press and the scrutiny of the infamous algorithm which received so much international media attention during August. In short, our students received the grades they deserved, and those were excellent.
Regardless of this being the first I/GCSE cohort at Oryx International School the statistics stand up when compared to the UK average. It is worth bearing in mind that this year's UK average is uniquely high. This puts into perspective the work, evidence-based grades and awards our students achieved.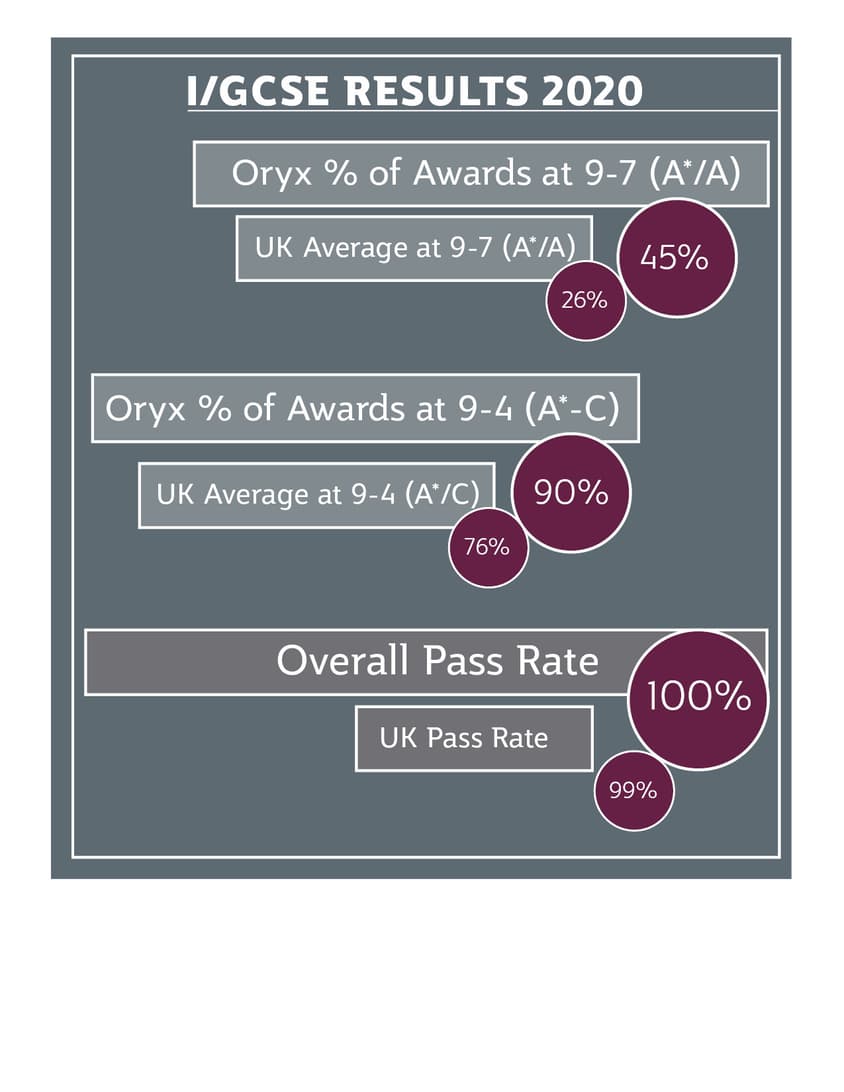 Some individual student performances were outstanding. They fill us with confidence as the class of 2022 move into their A-Level and BTEC courses and begin to focus on the trajectory towards University applications and career options. We hope to have a ceremony to celebrate examination and academic successes once the current regime is relaxed. We look forward to welcoming parents and students to that in due course, hopefully not too far into the future.
We are very, very proud of you, our Year 11's of 2020 - more than you may realise. You coped with the most difficult of situations, the pressure of examination awards and with many personal challenges last Spring and Summer. But, you triumphed! Very well done.