Dear Parents
This week saw two significant milestones in the history of our school. The first A level lessons took place as our Year 11 students began the transition to Year 12 and the submission of our first set of GCSE grades was completed. It is to everyone's credit that both momentous moments were smoothly instigated in spite of the current restrictions and challenges.
It was lovely to meet with Year 6 parents this week, and with parents of new students joining Year 7 next year. The conversations and the Q&A sessions with the parents of each class were fruitful and informative. It was satisfying to pass on our gratitude 'in person' for all the support our parents are providing. Mr. Julian Bennett, our new Head of Year 7 joined the sessions with Year 6 parents, from his current school in Cambridge and I know he was impressed with dialogue and obvious dedication of the families who participated.
Year 6 students will have the opportunity to meet their new Form Tutors in the final week of term.
Term 3 end of year reports will be issued shortly and parent consultations are scheduled for 14 and 15 June. Mrs. Johal will send details of how to book appointments to talk with your children's teachers.
You will be aware of Mr. Laidlaw's recent message regarding planning for reopening the school in due course. Whilst we cannot precisely predict how things will progress over the summer months our planning has taken into account several potential scenarios. In the meantime, our distance learning progresses with high levels of engagement. However, we are aware that the students are keen to return to school and re-establish their regular routine. We are also keen for this to happen.
In the meantime, thank you for your resilience and support.
Yours sincerely
Ken Haggarty
We have one final house event for this academic year and this could decide who our overall house winners for 2019/20 may be. Your challenge is to design a house shield. . Entries must be submitted by Thursday 11th June.
There are some guidelines for you to be aware of:
Entries can be on A3 or A4
You cannot use the School or Qatar Airways logo, including the cap, book or Oryx we currently have.
Criteria:
Must be shield-shaped
Must contain your house name
Must include the school values
Must use your house colour
Winners
The winning design will be awarded 50 house points.
2nd place 30 house points
3rd place 20 house points
To submit your entries, please email one of the below address clearly stating your name, class and year group.
liam.mernagh@oryxschool.qa
lucy.brown@oryxschool.qa
We are looking forward to all the entries.
Liam Mernagh
Assistant Head of Primary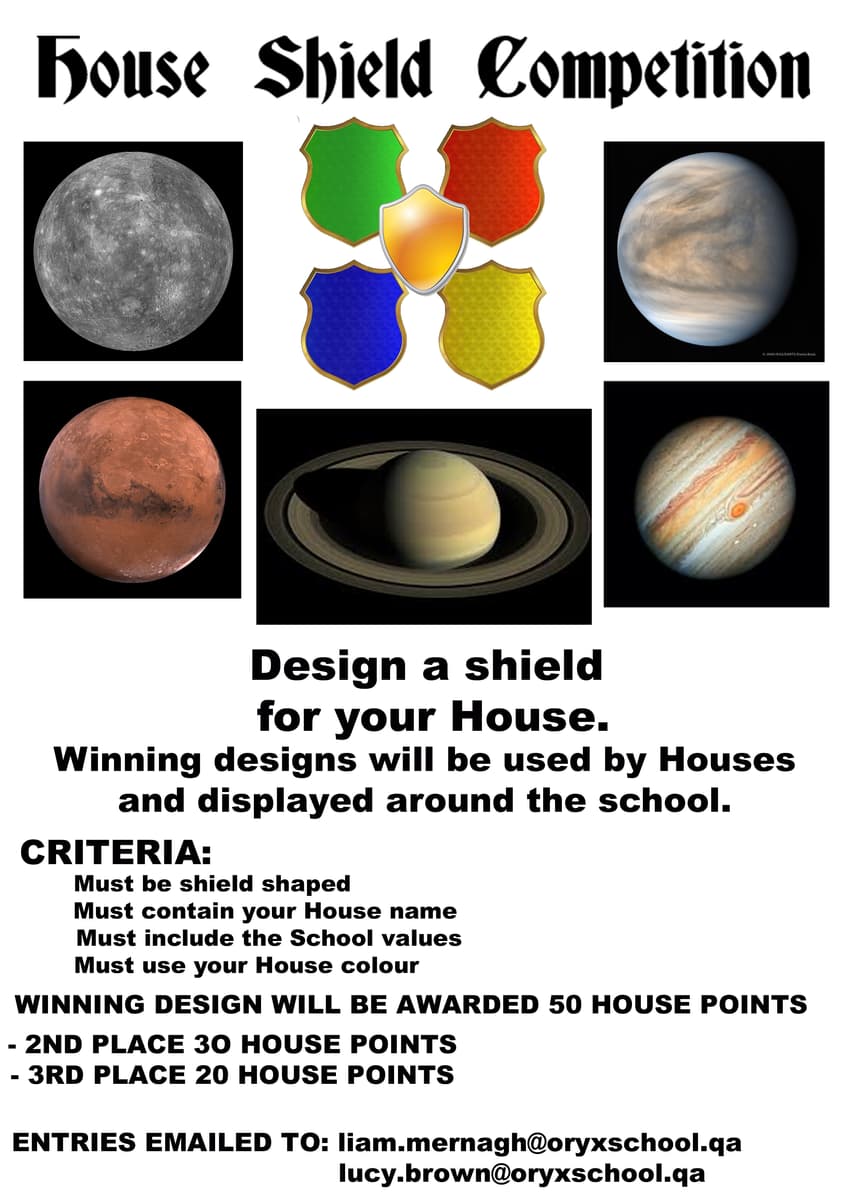 A very positive week for the Inclusion Team this week. Only 3 more weeks to go until the Summer Holidays but there is still plenty of learning to be supported. Please remember that the Zoom sessions offered by the SEND and EAL team are not compulsory and engagement is not monitored, however, they are a very useful way for your child to ensure they have followed the class tasks correctly and produced their best work. All of the team are delighted when they get to Zoom with their groups and see their happy, smiling faces.
Please remember, if your child has any worries, concerns or anxieties and would like to talk to someone at school please reiterate to them that they can contact our school counsellor, Mrs Bunmi, at oluwabunmi.tobun@oryxschool.qa. She can also be contacted by giving her a call on 66011301 from Sunday to Thursday between 8:30-9:30am and 12:30-1:30pm. She's always happy to listen and provide reassurance.
It is wonderful to see our students active and interacting through distance learning.
They have learned many skills in the three compulsory subjects (Arabic - Islamic Education - Qatar History).
Thank you to all the families for your continuous assistance, which helps us achieve our goals, as well as assist with increasing the level of competence, capabilities and skills of our students in their learning.
Year 7 will begin to assemble their own abstract artworks by combining their work with the Artists studied.
Year 8 will reflect on 'What is a self-portrait?'
Year 9 will continue to explore their observation skills using collage and continuous line drawings.
Year 10 will reflect on the work this year and begin the next personal project brief.
Year 11 will be exploring A-Level and investigating themes and Artists.
Year 10: Students will revise Unit 2 - People in Business. Students will answer questions related to AO1 and then move onto case study questions for AO2, AO3 and AO4
Year 11: Students who have chosen A-Level Business will be introduced to the subject.
Year 7:
Year 7A - Will be learning how to convert using sign-magnitude and two's complement.
Years 7B, 7C, 7D - Will be looking at how to convert from Binary to hexadecimal and vice versa.
Year 8: Students will learn about how sound is represented in the computer. Students will look at the use of the Analogue to Digital converter and why it is used.
Year 9: Students will look at different utility software. Students will be able to explain what the utility software is used for and how they work.
Year 10: Students will finish off Protocols. Students will then explore security issues in a network and how to overcome these issues.
Year 11: Students who have chosen A-Level ICT will be introduced to the subject.
Year 7 will be working on the designs for their board games. The board games will be inspired by Street Art and will build on the research they have carried out on users and existing products.
Year 8 will continue exploring 3D printing and computer-aided designing in Tinkercad. They will produce a 3D design of a hollow box that could be used for storage, decoration or protection.
Year 9 will continue working on their 'Product in a Tin' challenge. Some groups will be analysing the form and functions of products in preparation for designing their own product. Some groups have already moved onto the design and development section and will be producing a range of concepts.
Year 10 have begun to look at their GCSE coursework. Next week, they will continue researching their chosen design context and begin thinking about how they will solve their individual design problems.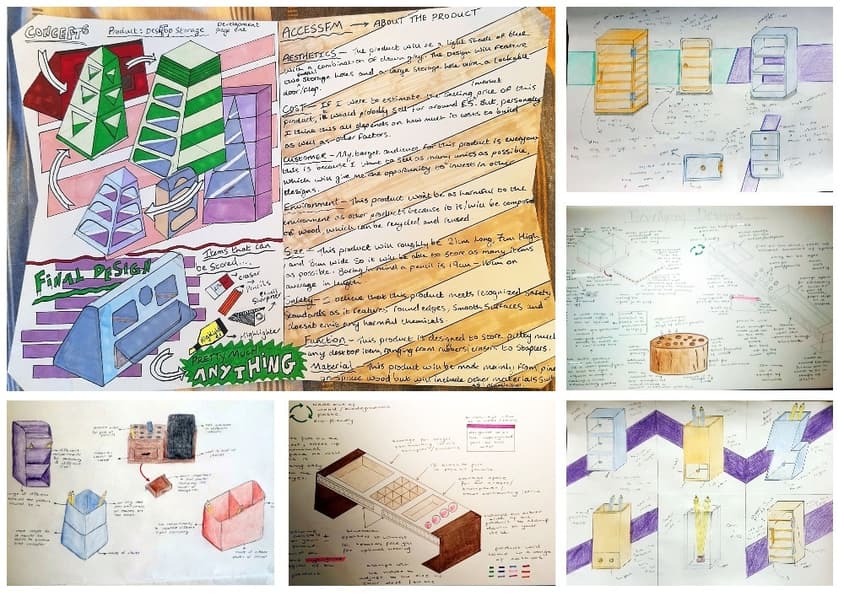 Year 7: Have completed a Midsummer's Night Dream Shakespeare Summer Project. This term we will revising some Drama Techniques and Strategies, reminding ourselves of the different Stage formats and stage directions and doing some creative script work to finish the term.
Year 8: Have completed a fantastic Theatre Project of work using Aladdin as their inspiration. I was so inspired by the set models that were made, costume designs, radio recordings and even some filmed performances that were sent in. What talent we have at Oryx! In these final few weeks of school, we will be exploring characterisation and writing monologues along with some final revision on Drama Techniques we have studied, to complete the term.
Year 9: Are working on creating presentations on different theatre practitioners and styles of performance. Using an array of research methods to make their presentations interesting for an audience. In the final weeks of term, we will be working on some script writing and a mini performance challenge to end the term.
Year 11: Have completed their Drama GCSE course. Well Done- I have thoroughly enjoyed working and creating with you all this year!
After a refreshing Eid break, our Key Stage three English students completed all the necessary study of the poetry scheme of work.
Year 9 had a taste of IGCSE poetry whilst Year 7 and 8 completed work on Transitions and Conflict. Meanwhile, all students were invited to contribute their favourite piece of work from the English study programme this academic year (perhaps a poem, poster, Lockdown diary or character diary) for possible inclusion in the Yearbook.
Some of Year 10 were introduced to the study and first reading of the American literary classic Of Mice and Men by John Steinbeck, whilst others completed the reading and annotation of the mandatory texts in the IGCSE English Language Anthology.
Congratulations to our new Year 12 A-level students who have made a seamless transition to A-level in their first lesson this week! Well prepared and organised, they are fully committed to the independent, self- supportive study skills that A-levels demand. An excellent debut and plenty of reading ahead, Year 12!
Year 7
LO: to learn about the positives and negatives to growing coffee in Ethiopia
LO: To learn about the life of nomads in the Horn of Africa
Year 8
LO: to understand what makes European Russia unique
Year 9
9-1 - LO: to learn about issues in China
9-3 - LO: to learn about the Geographical history of Asia
Year 10
LO: to evaluate how successful hard engineering coastal management techniques are
LO: to evaluate how successful soft engineering coastal management techniques are
Year 7
LO: Explore why the King of Spain decided to invade England in 1588.
Year 8
Describe how different criminals were punished.
Explain whether you think punishments were fair.
You will work as a team in order to create a mock trial, explaining how crimes were punished.
Year 9
Understand the differences between segregation in the North and the South of the USA.
Understand how and why the Supreme Court, Congress and the president appeared to accept segregation and discrimination.
Year 10
Lesson 1:
Understand why Cuba became a threat to the USA.
Understand why the Bay of Pigs invasion went ahead and why it failed.
Lesson 2:
Understand how Kennedy dealt with Khrushchev's attempt to put nuclear weapons on Cuba.
Understand how the crisis affected international relations.
Understand the outcome of the Cuban Missile Crisis for Khrushchev and Kennedy.
Year 7
Lesson 1: Direct Proportion 15b-pg 280
Use direct proportion in simple contexts.
Solve simple problems about proportion using informal strategies.
Lesson 2: Ratio 15c-pg 282
Use ratio notation.
Reduce a ratio to its simplest form.
Solve simple problems about ratio using informal strategies.
Lesson 3: Ratio and proportion problems 15d-pg284
Understand the relationship between ratio and proportion.
Solve simple problems about ratio and proportion using informal strategies.

Year 8
Lesson 1: 16a - Listing outcomes pg286
Use diagrams and tables to record mutually exclusive outcomes. L6
Lesson 2: 16b – Probability pg288
Find probabilities based on equally likely outcomes. L6
Calculate the probability that an event does not occur from the probability that it does occur. L6
Lesson 3: 16c - Experimental probability pg290
Estimate probabilities by collecting data from an experiment. L6
Year 9
Lesson 1: Understand how to calculate a reverse percentage
Ensure pupils understand the current value is not the full percent. They must find the whole 100%
Lesson 2:
Pupils must understand how to calculate straight forward compound interest and depreciation
Lesson 3: Problems involving compound interest and depreciation
Finding number of years of investment using trial and error
Finding original amount invested by solving
Finding the interest gained (which is different from the full value)
Year 10
Lesson 1: Calculate the area and circumference of the circle
Lesson 2: Calculate the perimeter and area of semicircles and quarter circle
Lesson 3: Calculate the arc length and angles.
Year 11 will be working with as level Transition work.
Expanding brackets and simplifying expressions
Surds and rationalise the denominator
Rules of Indices
Spanish Update:
Year 7 Spanish will be describing their town
Year 8 will be talking about holidays
Year 9 will be writing about travelling
Year 10 will be writing about social issues
Year 11, now newly crowned Year 12 students, will be getting taster lessons on the cultures of one Spanish region and one Latin American region.
French Update:
Year 7 French will be correcting their reading exam
Year 8 will be talking about their talents
Year 9 will be writing about their future plans
Year 10 will be talking about social issues
Year 11, now newly crowned Y12 students, will be learning about "la chanson francaise" and traditional French music.
KS3 Students will continue with their Music Madness competition activity, meeting with their teams and developing compelling arguments to support their chosen songs.
Year 11 are participating in their induction programme for next year.
Greetings from the PE Department! I hope everyone has had a relaxing Eid break and are ready to get on the move again.
This week in secondary PE students have been learning about the difference in resting heart rate and heart rate after exercise. Students have been experimenting with different activities to understand how our heart rate rises after different levels of physical activity. Next week students will be focusing on the relationship between health, fitness and well-being and how it affects the body.
Our Year 10 GCSE PE students have been studying all about sports psychology and are currently learning about the importance of different types of feedback from coaches and what sports they are used in.
Year 11 GCSE students are getting ready for the transition to 6th form and are learning about what the A level PE course entails.
We are extremely pleased with how hard everyone has been working and we look forward to seeing more of you in action next week.
This week we will be looking at
Year 7:
Set 1 - Project learning
Set 2 - Project learning and reproduction
Set 3 - Sound
Set 4 - Key Topic review
Year 8 All: Project learning
Year 9:
Set 1 - Principles of IGCSE chemistry
Set 2 - Molecular transport
Set 3 - Principles of IGCSE chemistry
Year 10:
Set C & E Biology - Exam Practice
Chemistry - Exam practice for section 2
Physics Set C - We will be studying Pressure and Specific heat capacity
Physics Set E -We will be studying the Gas Laws and specific heat capacity
Year 11: Sixth Form Induction