Dear Parents
We have reached the end of a fantastic first term at Oryx. Sixteen weeks ago we started with over 1,100 children and now have 1,231 on roll. This represents almost a 100% rise in our student numbers from this time last year. We continue to receive many enquiries and applications for places every week and demand at most primary ages is now reaching our capacity. The success and rise of the school has been quite remarkable not only in student enrolment, but also in staff numbers. We now have 166 staff working at OIS, an increase of more than 60 from last term. All our facilities have been tried and tested and we were delighted in the summer to be able to plan the entire school year in advance, knowing all our wonderful resources and facilities were available. Our excellent FM team from New Image continue to provide outstanding support in all areas of the school.
This rate of growth in such a short period of time is quite exceptional and logistically challenging, however it is testimony to all our staff, students and families who have come together to create such a vibrant school community. Our recent Winter Fair demonstrated just how far we have come as a new school community, with almost 1,800 people attending and enjoying a wonderful family event. Already, Oryx International School is gaining a reputation as one of Qatar's premier schools and being part of our community is indeed a privilege. Of course, Rome wasn't built in a day, and we are continually reviewing and improving our provision.
We are well on our way to becoming the 5-star school to which we all aspire, and although there will be more challenges ahead, I am confident that together we will achieve our goal very soon.
I wish you all a very happy and relaxing holiday, whether traveling abroad or staying in Qatar, spending time with family and friends.
We look forward to welcoming you back for our second term on 5th January.
Regards and best wishes for 2020.
Derek Laidlaw
Executive Principal
GCSE Drama
Year 11 GCSE Drama group gave a powerful, impressive and polished performance of a devised piece entitled ' Man Up! Sweetheart', which delighted the audience. This was part of the students' practical exam and was performed to an invited audience. It covered themes such as Wellbeing, Mental Health and Gender stereotype. Hopefully this will be the start of regular drama performances at Oryx . Congratulations to the students and to our Drama teacher Mrs Nikki Brown.
After School Care club
As I intimated in previous correspondence, I am delighted that Premier Group Sports will provide our After School Care Club as from Sunday 5th January. Students who are currently enrolled (ie with both parents working) will be given priority places at this activity and thereafter, enrolment will be opened to other parents. I hope that we will be able to accommodate more parents with this new service which will cost 20 QAR per child/hour.
Road Safety
I am very pleased that we are continuing to receive updated information from Asghal regarding the imminent construction of a pedestrian crossing opposite the main student entrance opposite Barwa City. This will greatly enhance our road safety outside the school, particularly at the start and end of the school day. This is a significant development made possible by support and intervention from HE Mr Al Baker.
Security
We are expecting two new pedestrian entrance gates to be fitted during the winter break. These will afford us greater security and safer means by which all pedestrians can enter and leave the school. All adults entering the school site will require to be security checked at these points of entry. Anyone not displaying a school ID Lanyard will be required to leave their QID or staff ID with security and wear a visitor's badge whilst on site. As the school is owned by Qatar Airways, our security measures are a priority.
Security gate A will be located beside the current vehicle gate 2. This will be the only access point between 7.30am and 1.55pm and again between 2.15pm and 4.00pm. This will also be used for early morning drop off (06.30) and after school care club.
Security gate B will be located beside the current vehicle gate 3 (the student gate used at the start and end of the school day). This will be open between) 7.10am and 7.30am and again between 1.55pm and 2.15pm. Thereafter it will be open again for 'out of hours' bookings - 4.00pm until 10.00pm, and at weekends.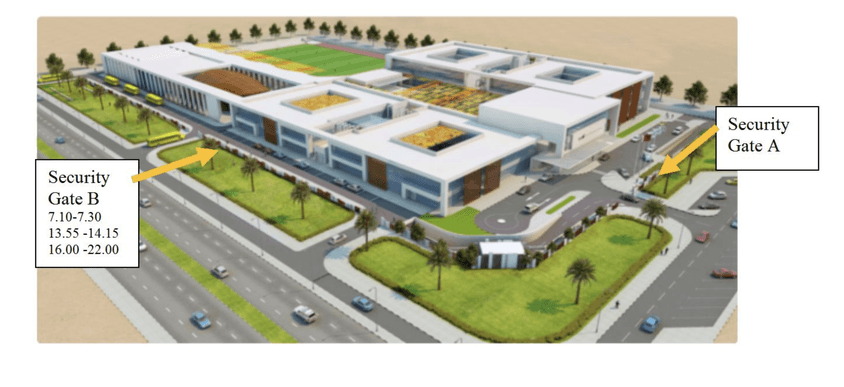 Speech and Language Therapy
At Oryx International School, we are always looking for ways to thoroughly support our students' learning and development and enhance the provision that they receive, ensuring that each child is able to flourish and thrive. With that in mind, we are hoping to offer Speech and Language Therapy sessions to any student that may benefit from them. Specialist Speech and Language Therapists from the Child Development Center, Doha will be running interventions for individuals at school during normal school hours. If you would be interested in your child receiving support from a Speech and Language Therapist here at school please email Mr Peacock, Head of Inclusion, at Michael.peacock@oryxschool.qa where he will be able to provide you with more information about this opportunity."