Dear Parents
Thank you for your continued support over this past week. It is an absolute pleasure to see and be able to share, photographs, videos and learning that is being undertaken across the school. I am so proud of all that we are achieving in this challenging situation.
I ask that parents keep sending their positive comments and feedback in to class teachers and school leaders so that we can share these amongst the staff and also reflect on our practices.
Today, you will receive your child's school report for the Spring term. The reports were written before we moved into virtual learning and reflect your child's progress and attainment up to this period. Please note the % attendance is from 25th August 2019 to the 9th March 2020, the date that access to school was closed to children. If you wish to raise anything regarding your child's report, please do so via your child's class teacher's email address.
Kind regards,
Mrs. Andrea Smith
Another busy, fun and productive week in FS1. The week started with World Book Day celebrations where children dressed up as book characters and shared their favourite stories with their families, even retelling them to their teachers through the VLE.
Next week children will be reading the story Rumble in the Jungle and talking about different jungle animals. They will be thinking of ways to move like different animals and engaging in lots of role-play using binoculars that they will make as part of their creative activities.
We will be revising all phonics picture cards taught so far and listening for the sound that can be heard at the start of words.
The children will play listening games such as "find the animal" using their understanding of positional language.
It has been lovely to see our youngest Oryx students having so much fun learning at home and continuing to share their learning journey with us.
FS2 have been working so hard at home and continuing to flex all their learning muscles with the help of their parents, brothers and sisters. Children still celebrated World Book Day by getting dressed up, taking part in extreme reading and creating their own bookmarks.
Next week we will look at active ways to keep our minds and hands busy while we are at home.
Year 1 have had a fantastic second week of home learning with lots of practical activities happening as well as e-learning. The children have been busy making things out of recycled materials in topic and sharing pictures with their teachers.
Next week we hope the children have as much fun learning on and off screen and we hope to get more pictures to share so they can still feel in touch with their classmates.
It's been an exciting week in Year 2. Our teachers were sent lots of pictures and videos of children dressed up as book characters and reading stories for book day. In Topic we've learned about the oceans of the world and in Science we've looked at recycling. In English we retold a story in our own words – we were impressed with the excellent pieces of work that were sent in.
Next week we'll be taking a closer look at the seas around the world. In English we'll be completing some online games to practice our grammar skills and in Maths we'll be focusing on number and place value.
The Year 3 team are extremely impressed with all your efforts on Oryx World Book Day! We have received some fantastic extreme reading pictures!
Next week we will continue to focus on Charlie and the Chocolate Factory and start investigating how plants grow!
Another busy virtual learning week in Year 4. The team began the week with a variety of outfits for World Book Day, some imaginative places to read and some really creative topic work.
Next week we will be writing a tomb raider adventure story and learning how to keep our teeth healthy.
In Year 5, the week started with World Book Day and we were very impressed with the children posting videos of themselves reading stories in both their home language and English.
Next week we will continue reading Chapter 3 of our WW2 text, A Bridge on Fire, as well as revisiting methods for addition and subtraction, before getting 'hands on' with some practical Science!
It has been another great week with some fantastic work submitted daily. This week we had World Book Day and some of the children got dressed up in their favourite book characters.
Next week we will be focusing on Newspaper Reports and Diary Entries. In Maths our focus will be area, perimeter & volume. In science, we will be learning all about the Arctic Circle.
Thanks for another great week.
Arabic, Islamic Studies and Qatar History
This week our students submitted excellent work with great VL interaction. Our primary and secondary students, who are finding Arabic language and Islamic Studies challenging learned a variety of skills to assist them in making this a little bit easier.
Well done to all the students who completed their homework and sent this in on time via our VL system.
Modern Foreign Language - French and Spanish
This week in our primary MFL lessons we watched videos and completed worksheets to assist with learning about verbs in French.
Year 6 - Students have been given access to a new textbook to help them learn how to talk about their favourite food! This new resource will take us a step closer to the new world of secondary school…
Next week: we look forward to revising the numbers and food so we can create some interactions from a French café. MFL teachers will also all be providing videos to help students with their tasks.
Stay tuned next week for some fun games to help us learn!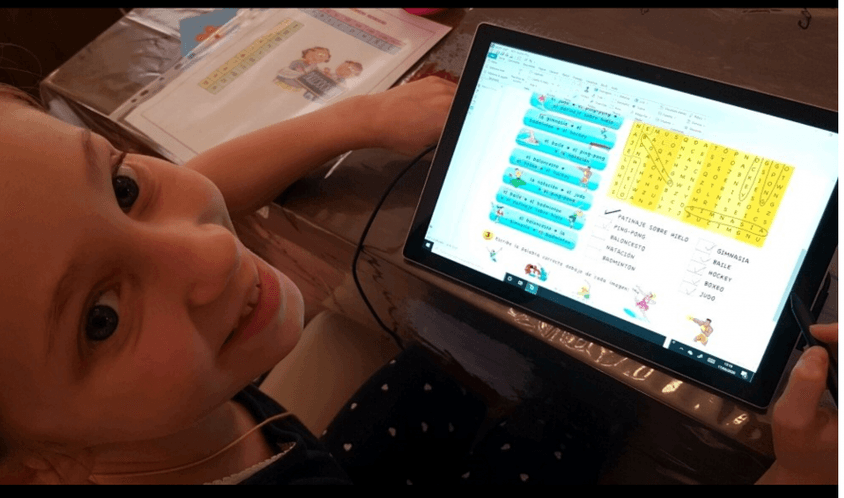 In FS next week the children are focusing on rhythm 1,2,3. We have been working a lot on this in class so I am sure they will be eager to show you what they have learned.
Next week in KS1 the children will be making their instrument. This week they designed their instrument and collected all their materials. I cannot wait to see some of the end results!! If you have already made your instrument (some of you have) then please keep it safe as you will be needing it the following week.
KS2 children will be designing a totally unique musical instrument. I am looking forward to seeing some weird and wonderful designs.
Thank you to everyone who has submitted their music projects this week. You are all working really hard and we have received some AMAZING work!! Well done everyone.
Remember, if you have a music instrument at home or you enjoy singing, then we would love to see some videos of you performing.
Keep singing everyone!
Greetings from the PE Department! What a great week we have had posting our VLE lesson's and watching you all complete them to the best of your ability. Although our football field is looking very lonely without you all.
This week in primary PE students have been having a lot of fun completing our tasks. We had lots of students completing Yoga, the balloon challenge, Famous sport stars and many boys and girls even tried to beat Mr. DeWaal's dribble time challenge.
Next week we have fitness tests, keepy uppy challenge and football skills to look forward to. Keep posting your video's and photos for every class so your PE teacher can see that you are staying active.
We are extremely pleased with how hard everyone has been working and we look forward to seeing more of you in action next week.
Keep it up athletes!