Dear Parents
Our Year 11 cohort have transitioned to Year 12 and have been involved in Induction sessions and A level teaching this week. However, the significant news is that their GCSE recommended grades have been processed according to Pearson Edexcel requirements and submitted. This unique process is in lieu of canceled examinations worldwide and has involved significant administrative and logistical efforts to gather evidence to support recommended awards. We are very grateful to the Year 11 students and you, their parents, in this regard. We now await feedback and results in due course.
Credit is due to our Year 11 students for their outstanding work ethic and flexibility at this difficult time. School closed mid-way through the final mock exams; they maintained an outstanding work ethic during on-line teaching, with stubbornly high levels of attendance; they took the swift decision to extend Eid in their stride and they have now transitioned to Year 12. We are very proud of them all.
Next week will see our first virtual Parent-Teacher consultations using exclusively technological platforms. Thank you for booking your appointments with the staff. It is a common, and universal complaint that some parents (and teachers) go over-time during conversations at Parents Nights, because this series of consultations are taking place in a virtual environment we appreciate your rigour in keeping to schedule. Otherwise, virtual queues will build and the system will be undermined. Thank you in advance for your maintenance of the schedule.
It is likely that the number of Zoom sessions will be curtailed due to teachers being involved in Parent consultations next week. Learning will take place, but children will be more likely to have to engage with assignments set for them on Canvas.
This week I had the pleasure of viewing drama monologues produced by students during the current closure. They were brilliant and moving. Particular congratulations to Pashmin, Shenoa, Malvika and Nithila who, in turn, produced amazing research and convincing, moving and amusing monologues as Kim Kardashian, Meryl Streep, Michelle Obama and Mohandas Ghandi respectively. Further drama monologues are being submitted and I trust that a selection will be made available for parents to witness and enjoy in due course.
Next week will see the announcement of the winner of the House Trophy. We managed to complete Sports Day, House Volleyball, House Quiz, House Spelling Bee and 'Before They Were(n't) Famous' challenge before closure and these, along with House points accrued during the year will inform the final result. Ms. Fitzgerald is working hard on the announcement presentation and we all look forward to seeing the result.
Thank you, parents and students, for your continued resilience and support. Hopefully, before too long, we can look back on this period as a unique, character-building challenge that we met and triumphed over. In the meantime, continue to take one day at a time and see it as a step towards a better time.
Yours sincerely,
Ken Haggarty
Accessing your report cards on the Parent Portal
The Inclusion Team - SEND and EAL Support
More great work this week from our Inclusion students. We are all so delighted with the progress that we are seeing, even in such challenging circumstances. It just goes to show how strong and resilient the Oryx students are – however, you shouldn't feel embarrassed or ashamed if you are finding things tough at the moment. It is only natural to feel a bit out of sorts, on edge and a little bit worried. Try to control the areas of your life that you can control, remember to find time to relax and unwind, and find ways to have fun, smile, laugh and take your mind off what is going on in the rest of the world.
Please remember, if your child has any worries, concerns or anxieties and would like to talk to someone at school please reiterate to them that they can contact our school counsellor, Mrs Bunmi, at oluwabunmi.tobun@oryxschool.qa. She can also be contacted by giving her a call on 66011301 from Sunday to Thursday between 8:30-9:30am and 12: 30-1:30pm. She's always happy to listen and provide reassurance.
This has been an excellent week in the field of distance learning for our students.
Our students continued to work on their skills of speaking, writing and reading.
We met with parents of our Sixth Grade students starting in September and discussed information pertaining to the curriculum of the Ministry of Education, the difficulties that students face and raising the competence of our students in all compulsory material skills.
Thank you to our parents and all our best wishes for the success for our students.
Year 7: Will be creating their own Artwork using their abstract shapes
Year 8: Will be resolving their Self Portrait Artwork
Year 9: Will be reflecting on the work they have produced this term
Year 10: Will be working on their Personal projects
Year 11: Will be working through their mini-projects.
Year 10: Students will revise Unit 5 - Business Operations. Students will answer questions related to AO1 and then move onto case study questions for AO2, AO3 and AO4
Year 11: Students who have chosen A-Level Business will continue with their Business project.
Year 7: 7A - Will be learning all about lossy and lossless compression. 7B, 7C, 7D - Will be looking at how images are converted into binary.
Year 8: Students will learn all about how units are converted. Students will look at bit, nibble, byte, kilobyte, megabyte,gigabyte, terabyte.
Year 9: Students will look at interpreters and compilers. Students will be able to explain the advantages and disadvantages of both interpreters and compilers.
Year 10: Students will finish off network security. Students will then complete a multiple-choice quiz on Networks.
Year 11: Students who have chosen A-Level ICT will continue on Databases.
Year 7: Will be working towards completing their board games. They should have now completed the design idea, using the research they have carried out on users and existing products. Students will begin to attempt to make their own board games at home using card, paper, cardboard or recycled materials.
Year 8: Will continue exploring 3D printing and computer-aided designing in Tinkercad. They will produce a 3D design of a hollow box that could be used for storage, decoration or protection.
Year 9: Will continue working on their 'Product in a Tin' challenge. Some groups will be continuing to design and development of their concepts and will be producing a range of ideas. Some students have considered prototyping their final design using scrap or recycled materials at home.
Year 10: Have begun to look at their GCSE Non-Examined Assessment coursework. Next week, they will continue researching their chosen design context, analyse their user, the environment and begin thinking about how they will solve their individual design problems.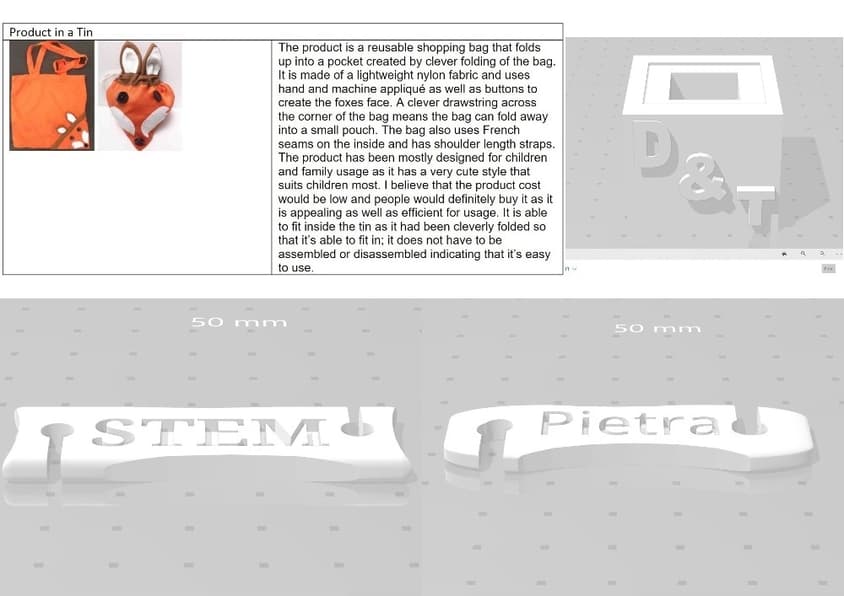 Year 7: Have been revising some Drama Techniques and Strategies, reminding themselves of the different Stage formats and stage directions and are doing some creative script work to finish the term.
Year 8: Have been exploring characterisation along with writing and performing monologues along with undertaking some final revision on Drama Techniques to complete the term.
Year 9: Year 9 are working on creating presentations on different theatre practitioners and styles of performance. Using an array of research methods to make their presentations interesting for an audience.
Year 11: Have completed their Drama GCSE course. Well Done- I have thoroughly enjoyed working and creating with you all this year!
As we enter the summer term, a time that is traditionally associated with the dreaded end of term exams the English department has developed an alternative curriculum for the final few weeks of term. The lockdown has of course has meant that the exams cannot take place. Instead, our hard-working students have been revising some key aspects of English such as grammar, reading comprehension and creative writing. Whilst we would all have much preferred to finish the term in the normal way the English teachers, like our students, have had to be flexible and adapt to the situation we all find ourselves in.
Despite the circumstances, our students continue to 'turn up' regularly their lessons and show a lot of commitment and effort in their studies. Many of them show a lot of zeal during our Zoom sessions and it is a testament to their passion to succeed in their education that they show such enthusiasm.
Meanwhile, Year 10 continued to read Of Mice and Men for IGCSE Literature studies. Year 12 are on week two of their four-week induction programme and have made a superb debut practising A level skill of analysis and research.
Year 7:
7-1/7-2: Students will explore salt mining in Ethiopia.
7-3/7-4: Students will learn about the life of nomads in the Horn of Africa.
Year 8:
8-1/8-2: Students will look at what makes European Russia different from Asian Russia.
8-3/8-4: Students will learn how Russia's geography changed after the collapse of the USSR.
Year 9:
9-1: Students will learn about the manufacturing industry in China.
9-2/9-3: Students will learn about Asia's different biomes.
Year 10:
Students will understand the cost/benefit analysis when making decisions about coastal management at the coast.
Students will learn how a high-income country (UK) approaches coastal management.
Year 12: Students will look at the successful countries of development around the world.
Year 7: Students will develop an understanding of the Spanish Armada Part II.
Year 8:
Describe how the police force changed.
Describe a policeman's 'beat'.
Explain why a policeman's job was often difficult.
Year 9:
Understand the key events of the Montgomery Bus Boycott.
Understand the degree of support for the boycott and reasons why it was successful.
Understand the significance of the boycott.
Year 10:
Lesson 1
Understand how Kennedy dealt with Khrushchev's attempt to put nuclear weapons on Cuba.
Understand how the crisis affected international relations.
Understand the outcome of the Cuban Missile Crisis for Khrushchev and Kennedy.
Lesson 2
Understand why Dubček introduced reform in Czechoslovakia.
Understand why the Soviet Union invaded Czechoslovakia.
Year 7:
Lesson 1 - Chapter 15 (Proportion), Revision Ch. 15 A-D, My Review Ch.15.
Lesson 2 - Chapter 15 Kerboodle Assessments (Formative & Summative).
Lesson 3 - The Probability Scale 16a.
Use vocabulary and ideas of probability.
Understand and use the probability scale.


Year 8:
Lesson 1 - 16d - Theoretical and experimental probability, Pg292, Compare experimental probabilities with theoretical probabilities. L6.
Lesson 2 - 16e – Sets, Pg294, Use the language of sets and use sets to calculate probabilities. L6.
Lesson 3 - Chapter 16 My Review & Kerboodle Assessments (Formative & Summative).
Year 9:
Lesson 1 - Exam questions on reverse percentages.
Lesson 2 - Exam questions on compound interest and depreciation.
Lesson 3 - Using SOHCAHTOA to find the length of a missing side in a right-angled triangle (when unknown is numerator).


Year 10:
Lesson 1 - To be able to answer questions on area of a sector.
Lesson 2 - To be able to answer Exam questions on area and circumference of circle / Arc length.
Lesson 3 - To be able to find Volume and surface area of a Prism
Year 11: Students will be working with as level Transition work.
Lesson 1 - Factorizing expressions.
Lesson 2 - Completing the square.
Spanish
Year 7: Students will be describing their families.
Year 8: Students will be talking about their house and town.
Year 9: Students will be writing about traveling.
Year 10: Students will be writing about social issues.
Year 12: Students will be getting taster lessons on the cultures of one Spanish region and one Latin American region.
French
Year 7: Students will be doing a quiz on France and French culture!
Year 8: Students will be talking about their ambitions
Year 9: Students will writing about their rights
Year 10: Students will be talking about social issues
Year 12: Students will be presenting on music from their regions.
Greetings from the PE Department!
This week in secondary PE students have been learning the role of the respiratory system and how it links to performance in sports. They have also been completing the lock down showdown working and earning either the bronze, silver or gold medal for their workout.
Our Year 10 GCSE PE students have been studying all about sports psychology and next week will learn about the importance of mental preparation before a sporting performance. Year 11 GCSE students are getting ready for the transition to 6th form and are learning about what the A level PE course entails and Mr. Parmar has been guiding them through the course components.
Keep it up the great work athletes!
This week we will be looking at:
Year 7:
Set 1 - Project learning
Set 2 - Project learning
Set 3 -Project learning
Set 4 - Key Topic review and project learning
Year 8 All: Project learning
Year 9:
Set 1 - Principles of IGCSE chemistry
Set 2 - Molecular transport
Set 3 - Principles of IGCSE chemistry
Year 10:
Set C & E Biology - Exam Practice
Chemistry - Exam practice for section 2
Physics Set C - We will be studying Gas laws
Physics Set E -We will be studying Gas Laws
Year 11: Sixth Form induction