Dear Parents,

Thank you to parents of Years 7, 8 and 9 who assisted with our move to the Canvas VLE platform. Teachers have been working hard over the past few weeks to upload content and we appreciate your support in making Sunday's migration such a speedy process. We understand that it will take some time for everyone to become familiar with Canvas. However, we are delighted with the positive and swift move to Canvas at the start of the week.
The PE Department have made some excellent videos to encourage aerobic activity and our PTSA are involved in setting up further opportunities for our community to come together. Mr. McAuley has submitted our student's entries for the Katara Short Story Competition and we will also be entering the Katara Short Film Competition (Ms. Rams) and Quran Competition (Mrs. Nehad).
Student engagement remains high, particularly for interactive lessons and we will continue to monitor each lesson and contact parents if any pattern of non-engagement is observed. The overall impressions we have is that Secondary students are self-managing for the most part and should be commended for this. However, this is not to say that parents cannot and should not be involved - your support is vital. Thank you.

Kind regards,
Mr. Ken Haggerty
Head of Secondary
The Inclusion Team – SEND and EAL Support
It has been another brilliant week of Zoom sessions with our students requiring support with English or extra support in other subject areas. The additional face-to-face time with the students has not only been received positively by the students and parents, but the Inclusion Team are delighted to be able to see the students' happy, smiling faces again. Even more pleasing is the attitude and behaviour being seen in the Zoom sessions, with students even raising their hands to contribute or answer questions. Keep up the hard work – you're all (students and parents) doing great!
Please remember, if your child has any worries, concerns or anxieties and would like to talk to someone at school please reiterate to them that they can contact our school counsellor, Miss Bunmi, at oluwabunmi.tobun@oryxschool.qa.
She can also be contacted by giving her a call on 66011301 from Sunday to Thursday between 8:30-9:30am and 12:30-1:30pm. She's always happy to listen and provide reassurance.
Year 7, 8 and 9 moved to the new Canvas VLE program.
Our students learned reading and grammar skills in Arabic. Some of our students participated in extra-curricular activities and Ramadan competitions provided by the Heritage Village, Katara. Katara supports Islamic and Qatari culture and is interested in preserving the beauty of the Arabic language for the future of our youth.
Thank you to our students for their hard work this week.
Year 7: Students will begin to use the work of Yayoi Kasuma and Elizabeth Murray to create their own abstract shapes.
Year 8: Students will begin a realistic self-portrait drawing having completed their abstract portraits and evaluations.
Year 9: Students are starting to use continuous lines to create observation drawings.
Year 10: Students will continue developing their paint skills in using acrylic paint as well as develop their abstract painting in response to Georgia O'Keeffe.
Year 11: Students are selecting appropriate work to resolve their components.
Year 10: Students will continue studying Unit 5. Students will learn about E-Learning. They will further enhance their knowledge of E-learning exploring the advantages and disadvantages for both customers and businesses.
Year 11: Students will be revising Topic 1 – Business Activity and practise answering 9-marker questions using past exam papers.

Year 7: Students will learn what is Logic Gates and how to calculate different Logic Gates.
Year 8: Students will learn about creating videos and will then create one of their own about their current experiences.
Year 9: Students will start to create mini-programs on Python and will use variables and inputs to create a basic calculator.
Year 10: Students will earn about Network Hardwar, will explore the different hardware used in networking, and thereafter move onto network protocols.
Year 11: Students will complete a range of IGCSE questions on Unit 5 – Networking.
Year 7: Students continue the Board Game project. We will be researching existing products and students will be considering how they could incorporate existing designs into their own concepts. After this, they will begin to develop what the game will look like, how it will be played and the rules.
Year 8: Students will continue following their series of tutorials about 3D printing and Computer-Aided Design. Via online videos and presentations, students will learn how to create 3D products using different computer software (tinkercad, onshape, freecad). Students have started to create a headphone wrap design in thinkercad which they will complete during this lesson.
Year 9: Students will continue the 'Product in a Tin' unit of work. Students have been challenged to design a product to fit into a tubular tin. So far, they have analysed who the product will be for. Next week students will be exploring possible solutions and existing products as inspiration for their designs.
Year 10: Students will continue to practice and develop their drawing, sketching and presentation skills. Following on from the work this week students will begin to use a range of techniques to develop their design concepts for a desktop storage unit. Students will also start to employ modeling methods using basic materials and construction techniques.
Year 11: Students will continue to work on the Design and Technology theory content and revision materials in preparation for the assessment week. Students are currently studying timers; including construction techniques, manufacture, tools and machinery used. Once complete we will be looking at exam practice and exam-style questions.
Year 7: Studentshave started a Shakespeare Summer Project. They will be doing a variety of home activities such as interpreting a script for a performance as an actor, director and designer, developing their scriptwriting skills, editing and formatting parts of a script, and recording monologues. All of the activities are based around the play A Midsummer's Night Dream.
Year 8: Students are working on a Live Theatre Project. They will be using the musical Aladdin as their inspiration. They will work as a performer and/or a set and costume designer to complete a variety of tasks around the production. The students will develop an appreciation of live theatre and gain knowledge on the performance and design elements that make a production successful for an audience.
Year 9: Students will complete a theatre evaluation after watching a digital theatre performance to develop their critical writing skills. They will then be researching the theatre practitioner Bertolt Brecht and be exploring some of his theories in Epic Theatre. This will contrast against last term's Naturalism style of performance.
Year 11: Students have completed all their practical GCSE work and are now revising for their written paper and practicing past papers.
In these uncertain times, one thing is sure – the education does not stop! Our remote lessons continue. We have made the exciting transition to Canvas. You will hopefully have been briefed about our new online learning platform. Canvas is a course management system that supports online learning and teaching. It allows professors to post grades, information, and assignments online. The English teachers have been hard at work populating the platform with resources and familiarising ourselves with it.
As the courses continue, all the year groups have been studying poetry.
Our Year 7 were working on First Day at School by Roger McGough. McGough writes about the daunting experience of starting school and some of the challenges. He should really write a poem about homeschooling!
Our Year 8 cohort were studying Presents From my Aunts in Pakistan. This is a poem by Moniza Alvi. Alvi describes a few gifts that she receives from her aunts. This is a metaphor for her Pakistani culture, and she says how much it clashes with her English culture.
Our Year 9 cohort were working on Checking Out Me History. This poem was written by the British Guyanese poet John Agard and first published in 2005, in the collection Half-Caste. The poem focuses on the holes in the British colonial education system—particularly that system's omission of important figures from African, Caribbean, and indigenous history.
Personally speaking, a lot of the themes discussed in these poems resonated with many of our students. The topics generated a lot of animated discussions and some independent research into some of the background that inspired the poets.
Year 10 students continue to study the compulsory Anthology teats for the exam including the Texts Prayer before Birth
Year 11 students have completed, analysed and shared (with their peers) their Quarantine poetry compositions alongside past paper exam questions.

Year 7: Students will learn the physical features of Africa
Year 8: Students will learn about the distributions of people across Russia.
Year 9-1: Students will learn about the distribution of Asia's population.

Year 9-2/9-3: Students will learn about the characteristics of the rainforests.
Year 10: Students will learn about the importance of mangroves and the threats to the mangrove ecosystem.
Year 11: Students will consolidate using figures and command words.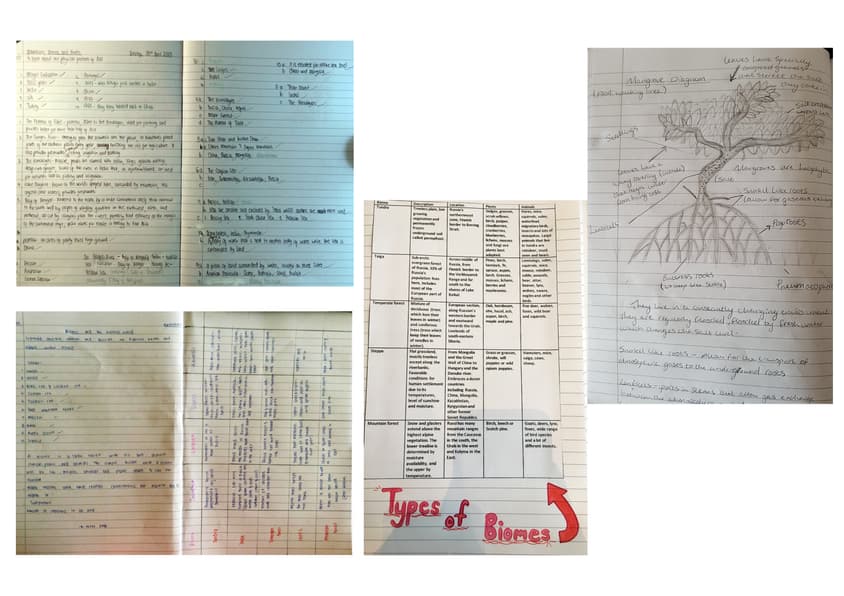 Year 7: Students will develop an understanding of the life of young Elizabeth.
Year 8: Students will understand why Chadwick wrote his report, why public health was such an issue and analyse the issue of public health and suggest solutions by presenting the findings of the report.
Year 9: Students will understand the impact of the Balkan Wars 1912-13 on Eastern Europe.
Year 10: Students will understand why Stalin established the Berlin Blockade, how the creation of the Berlin Blockade led to the establishment of East and West Germany, why the Korean War broke out and the impact of the Korean War on East-West relations

Year 11: Students will consolidate and expand previous knowledge and practice and complete exam techniques.
Year 7 Lesson 1: Term-to-Term Rules - 13c-pg252; Generate and describe simple sequences (L4).
Year 7 Lesson 2: Position in a Sequence - 13d-pg254; Generate sequences from practical contexts (L4).
Year 7 Lesson 3: Revision Sequences Chapter 13 A-D
Year 8 Lesson 1: 13b - Position-to-term rules - Pg238; Find and use the position-to-term rule in a sequence. L6
Year 8 Lesson 2: 13c - Real-life sequences - pg240; Use sequences in context and in real life. L6
Year 8 Lesson 3: 13d - Geometric sequences - pg242; Recognise and describe geometric sequences. L6
Year 9 Lesson 1: Simplify algebraic fractions (without factorising).
Year 9 Lesson 2: Simplify algebraic fractions that requires factorising.
Year 9 Lesson 3: Solve equations involving fractions.
Year 10 Lesson 1: Solve quadratic equations using the quadratic formula.
Year 10 Lesson 2: Solve quadratic inequalities.
Year 10 Lesson 3: Solve quadratic inequalities.

Year 11: Practising Exam questions from Past paper Booklet and revising.
French
Year 7: Students will be studying their past-times and the weather.
Year 8: Students will be writing using comparatives for the first time.
Year 9: Students will be writing about the rooms of their house.
Year 10: Students will be deciding on their favourite destination to pair as a sister town to Doha.
Year 11: Students will doing past papers.
Spanish
Year 7: Students will be describing their families.
Year 8: Students will be writing about how they dress.
Year 9: Students will be writing about fundraising.
Year 10: Studentswill be writing about their house.
Year 11: Students will be doing past papers.

Year 7-9: Students will be creating a report sharing their findings and analysis of their Personal Projects so far.
Year 11: Continued development of composition brief, focusing on effective song-writing strategies and listening techniques.

This week in secondary PE students have been completing the PE and Maths challenges, student had to use their math skills to work out how many repetitions of each exercise they needed to do in their fitness workouts.
Our Year 10 and Year 11 GCSE PE students have been keeping busy by completing the Basketball fitness workout and enhancing their theory knowledge through exam questions.
Just a reminder that as we approach the holy month of Ramadan, it is encouraged that students still complete their online PE lessons. The PE teachers have been mindful that some students may be fasting and have created activities that are not too demanding. We would greatly appreciate if all students complete their lessons as normal and take additional breaks if they need to.
We are extremely pleased with how hard everyone has been working and we look forward to seeing more of you in action next week.
Year 7:
Set 1 - Sound and its behaviour in matter.
Set 2 - Forces
Set 3 - Atoms and Elements, we will be looking at the structure of the atom and exploring its subatomic particles.
Set 4 - Atoms and Elements, we will be looking at the structure of the atom and exploring its subatomic particles.
Year 8 All: Unicellular organisms: we will be exploring various unicellular organisms, including the protoctists and viruses.
Year 9:
Set 1 - Enzymes and molecular transport.
Set 2 - Enzymes and molecular transport.
Set 3 - Newtons laws for motion.
Year 10:
Set C & E Biology - Plant transport.
Chemistry - Extraction of metals. We will be looking at the reactivity of metals; how they are found, mined and extracted in nature.
Physics Set C - We will be studying density and pressure.
Physics Set E -We will be studying the gas laws.
Year 11: We will be looking at practising past questions.