Dear Parent,
Many of you will have seen footage of last weekend's Secondary Choir triumph at the Qatar Schools Choir 2020 Competition. To have been in the Hall and to have heard the children sing, the adjudicator praise and the winning announcement made was a unforgettable experience. ''It is with great pleasure that the award for Qatar School Choir of the Year goes to Oryx International School Secondary Choir 'was what the Adjudicating panel tried to say but what actually came out was 'It is with great pleasure that the award for Qatar School Choir of the Year goes to Oryx (….massive cheers and screaming and deserved applause)! The girls and boys who sang at the Qatar National Convention Centre did themselves, their parents and the school proud. We thoroughly deserved the accolades and winning has put us on the map with other schools and shows what the potential of Oryx is. Particular kudos to Gaia, Yaswinii, Sebastian and Sondos for their solos.
Photo credit to Doha College Marketing Team
Our Model United Nations participants have now completed two Conferences, including over the recent half-term holiday. Their dedication and ability are being recognised by other schools and it is a delight to see MUN becoming so popular. At the recent Conference at Doha College Clark and Nourin received Special Mentions and Robertus was awarded Best Delegate.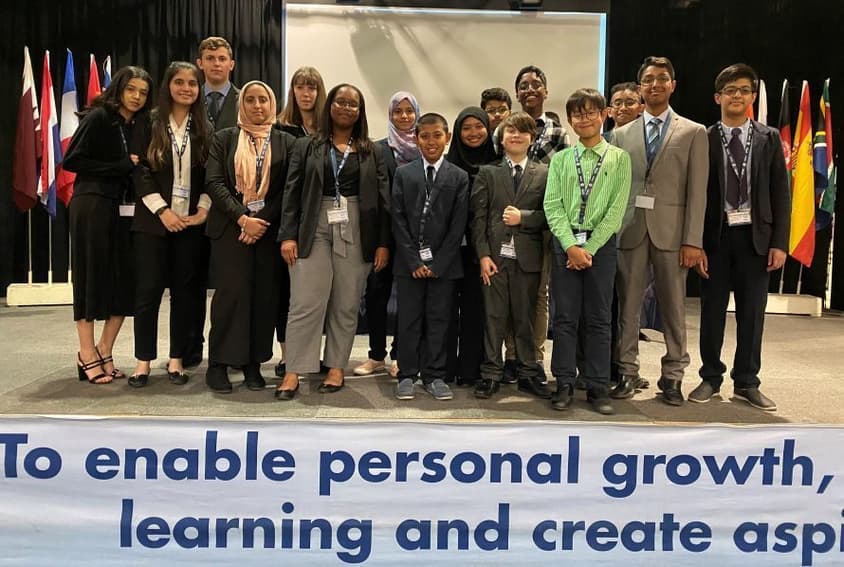 The first Oryx Duke of Edinburgh Bronze Award group completed their practice trek at Al Zerkeet last month. 27 students took part and gained a lot of vital experience in terms of logistics, stamina, equipment and map reading. The next stage is their actual trek and this is scheduled for this month. Thereafter, the challenge is to complete their Service and Skill requirements in order to receive their Bronze award and consider whether to advance to Silver next year. The Duke of Edinburgh Award has provided to be popular and the establishment of our first group of 27 Participants under the leadership of Miss Cross and Mr Downing are a particularly loyal and resilient cohort who have gotten a lot from the process.
It was good to meet many of you at the recent Year 9 Parent's Evening. With GCSE options choices imminent it is an important time for Year 9. We look forward to receiving final subject choices this week.
Year 11 are nearing the end of their GCSE journey and their focus is turning towards revision and consolidation. Rather than scheduling a further series of Mock examinations in the run up to actual GCSE assessments we have decided to allow the students to give their revision priority. Actual GCSE Assessments will begin in April with the main set of examinations going on through May. A detailed schedule of examinations, compulsory revision sessions prior to examinations and optional revision sessions during examinations will published this week.
Year 10 artists have been working in the Achievement Centre each week, painting murals and adding colour to the walls. This long term project will hopefully see some lovely wall designs completed during Term 3.
The Holy Quran Competition took place in early February and our students deported themselves very well. Mrs Nehad was proud of their dedication and commitment. It is great to see our students participating in so many events around Qatar now. Mathematicians, under Mrs Mulla's leadership took part in the recent Pi Day Challenge and were involved in a series of mathematical challenges which will manifest themselves in a Pi event here in school later this term.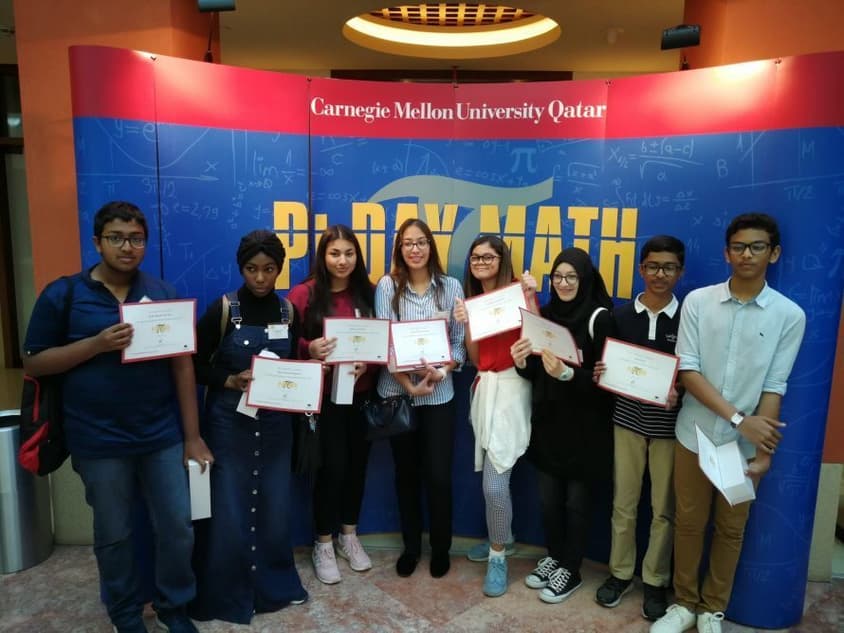 Our Cross-Country team took on all comers at the recent Cross-Country races and braved the heat and the desert with some creditable results. Anvitha Erini was the stand out runner with her 4th place in the women's U19 age group. Bearing in mind how much younger she was in this strong field it gives perspective to her great finish and potential for the future. It was pleasing for the Secondary BISQ team to be presented with their trophy by Ms Nabeela from Qatar Airways.
Sports Day proved to be a roaring success. Ms. Fitzgerald and the PE Department worked all week and showed true dedication. Their enthusiasm rubbed off on the children, colleagues and House Leaders alike. Venus House gained the most points and won the trophy but everyone had a great time. Particular thanks to our amazing PTSA supporters and to all parents who took the time to come along, work and cheer on the children. It was a fantastic event, characterised by sportsmanship, participation and team spirit. Well done to everyone.
Kind regards,
Mr. Ken Haggarty