Oryx International School is proud to announce that, following a lengthy and comprehensive process, we have successfully been awarded full International Accreditation with the Council of International Schools.
The CIS accreditation team have given the school 27 commendations in the 8 domain areas: purpose and direction; governance, leadership, and ownership; the curriculum; teaching and assessing for learning; the student's learning and well-being; staffing; premises and physical accommodation; community and home partnerships.
As part of the Orbital Education Group of schools, we are committed to delivering the best quality and highest standard of education for our students. Accreditation by various international bodies ensures that our school upholds our commitment to our community, students and parents. Accreditation by the Council of International Schools validates the level of quality and consistency that we as a CIS school uphold.
The school is commended for the academic staff's significant advances made in intentionally planning for global citizenship and intercultural learning; the Assistant Principal's, in Teaching and Learning, for leading the whole school to define high-quality learning and teaching; and the OIS community for a collective commitment to proactive and effective approaches to well-being.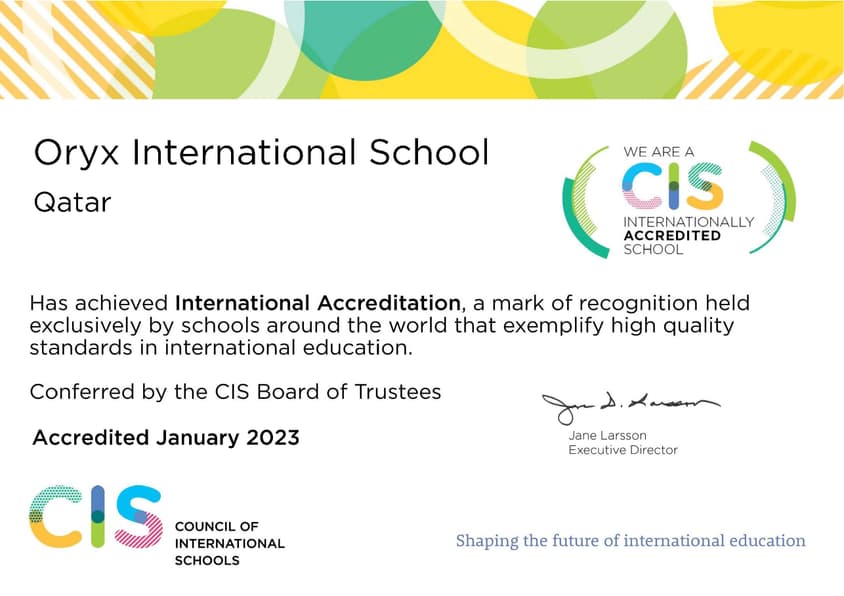 CIS, as a leader in the field of school evaluation and accreditation worldwide, provide a unique international school accreditation process with a focus on student learning and global citizenship. The CIS International Accreditation is recognised by ministries, departments of education, and universities worldwide due to its high quality and rigorous evaluation requirements, which demonstrates the school's commitment to a high-quality international education.
Further commendations include: The SLT and academic Staff for embedding effective child protection systems and processes across all areas of school life; the maintenance team and support staff for exceptional maintenance of the facilities, infrastructure, security and systems, and the subsequent positive impact on the health, safety, and well-being of the school community; and the whole school community for building, nurturing, and sustaining a particularly positive learning community.
To read the full report go here: CIS Accreditation Report 2023