Dear Parents
As our summer term draws to an end, I would like to express my most sincere thanks to the pupils, parents and primary team who have coped admirably during these challenging times. We do not know for certain what lies ahead but parents can be assured that the children in our care are placed at the very centre of all that we do at Oryx. I am incredibly proud of what we have achieved together.
The end of year Zoom assemblies as well as the ''meet the new teacher'' sessions have been a true testament of the spirit of Oryx International School and the strong parent:teacher partnership that we are building. Thank you to parents who continue to share their appreciation with their teachers and to those parents who offer their ideas and suggestions that help us to reflect on our practices.
Today, the teaching teams across primary have said a final farewell to the pupils in their care and we have said goodbye to our Year 6 classes who are looking forward to starting an exciting new chapter of their learning journey next year. Thankfully, many of whom are not going too far and we will still be able to keep a special eye on them! We look forward to hearing about their achievements and their progress in our secondary school.
We have also said farewell to some of our primary staff who are off to pastures new. On behalf of the Primary team I would like to thank them for their commitment to the school and for the education of your children. We wish them all the very best of luck in their new pursuits.
For many of us, this time at home (as challenging as it has been) has allowed us time to set ourselves goals, to find new interests, pursuits and passions and to reflect on our accomplishments. So, whether it is learning to play the piano, the guitar, tennis or baking please keep encouraging each other and celebrating successes as we would love to hear all about new talents when we return to school. Please remember that our virtual summer school is available from 1st July via Canvas - on these pages parents and pupils will find lots of activities and ideas to fill their summer holiday free time.
I look forward to seeing you all again in September.
Take care and Stay safe.
Kind regards,
Andrea Smith
That's it – we're all done for another year! And what a year it has been! I don't think any of us could have imagined school life would be like this back in September 2019.
A huge 'Well done' to all of the students who have seamlessly transitioned across to online learning. We are incredibly proud of the strength and resilience of the Oryx students. Another 'Well done' to the parents who have juggled their jobs, looking after their children and supporting them with their studies – without you, the VLE system would not have been possible.
And finally, a giant thank you to all of the Inclusion Team who have managed to continue with their dedicated support for our SEND and EAL students, whilst learning the online learning procedures, changing their routines on a weekly basis and still managing to remain positive, calm and professional.
We say goodbye and good luck to Mr. Walsh who is leaving the school this year. We will miss him but wish him safe and happy travels for his next adventure teaching overseas.
We have finally come to the end of this academic year. Apart from all the classes at school, we have had about 6 classes on Zoom. I enjoyed teaching you, however, learning English is never over. The language is always developing and you have to keep up with it.
I sincerely hope I have been able to help you with your language acquisition. As your teacher, the best gift you can give me is that you continue learning at home. If at all you need help along the way, please feel free to write to me. Tomorrow is the last class with you, please do try and make it. I would love to say goodbye. I have created a short memento of our time together. Please do watch it.
Thank you for all the lovely 'Appreciation letters' you wrote to me, they make my heart happy whenever I read them.
Thank you all for being such wonderful students. In your success, lies my own!
Stay safe, Stay blessed, Stay healthy.
"Au revoir!''……..until we meet again!
FS1 have finished their 'Under the Sea' topic and their FS1 year with beautiful under the sea collages of mermaids and sea creatures. They have also been busy making ocean sensory bottles using recycled plastic bottles, which have turned out amazing.
It has been wonderful to see how our youngest Oryx children have adapted to virtual learning this term and how much they have grown and developed throughout their first year with us. We are so proud of each and every one of them and wish them the best of luck for FS2 in September. Well done FS1!
FS2 have had another fantastic week of fun learning! The highlight of the week was when the children wrote lovely letters to their new teachers for the next academic year! They then wrote a 'Goodbye Reception' message before they venture out, on their journey into Year 1! They recalled their favourite memories, wrote about their friendships and what they had learned. We finished the week with our fantastic zoom party with lots of games, the children sent their baby pictures to play the Guess Who? game! We also enjoyed designing and making our very own party hats for the occasion!
We are extremely proud of you FS2 and hope you have a wonderful year ahead in Year 1!
We have had a fantastic time in Year 1 this year and have learned many exciting new things. The children have worked so hard despite all the difficulties we have had.
In Term 1, we found out lots of information about Plants and even got to plant our own Sunflowers.
In Term 2, we were inquisitive about Mini-beasts and enjoyed exploring our school grounds.
In Term 3, we enjoyed our Superhero topic and even were acting like superheroes by staying safe at home.
On behalf of all the Year 1 team, we wish you all a safe and restful summer vacation and we thank you all for the continued support this year. We cannot wait to see all your little faces when you return in September.
Unfortunately, the time has finally arrived.
Term 3 is finished and we are off for the summer holidays! A time of lots of emotions! In Year 2 this week we have been looking back on the fantastic memories we have created!
The Year 2 teachers would like to wish the children all the best of luck moving up into Year 3 and we look forward to coming up to visit to make sure you are all behaving yourselves! We will miss you!

We can't believe that we are now at the end of another awesome school year!
This week, children have been reviewing their learning in Maths, English and Science. They have enjoyed working on Times Tables Rockstars and completing activities on Education City. During the week, the children got the chance to meet their new teachers and classmates. They're all looking forward to making new friends and starting new memories in the new school year.
We wish all of our Year 3s the best of luck for the future!

What a busy year we have had in Year 4.
In Term 1, we learned all about the Vicious Vikings! We went on a school trip to Baladna farm Park. Here the farmers showed us how the milked cow in modern days compared to the Vikings. We got a chance to explore the fun activities around the park which was thirsty work. After all the fun we got a Baladna milkshake to cool us down.
During the spring term, we studied the Ancient Egyptians. We wrote about the many discoveries and produced some amazing reports on Tutankhamun. We enjoyed the chance to perform in the amazing auditorium where we showcased our singing and dancing.
In the summer term, we discovered the amazing Rainforests. We discovered the many different animals that it provides for and the life cycles they live. We have had so much fun in year 4 and learned a great deal.
We will miss you all Year 4s and wish you the best in Year 5!
In our final week, the children have been continuing their learning by reflecting on their time away from school and using Book Creator to create a class 'Lockdown 2020' book, as well as developing our writing skills to 'Write a letter to our future self' which will hopefully provide some amazing memories when the children read their letters at some point in the future. In Science, we have concluded our learning about Earth and Space to question whether life exists outside of Earth and what this means for the future. The children have worked hard to consolidate their Problem-Solving skills as well as revise Place Value, Roman Numerals and formal methods for calculation in Maths.
We have sadly come to the end of the academic year and although it may not have ended in the way we would have hoped, the members of the Year 5 teaching team just want to say a massive 'Thank you' to the children for being so fantastic and rising to the challenges of this academic year! They have all worked incredibly hard and are now prepared to face the challenges of Year 6 – we cannot wait to see you go on to do some amazing things!
Please stay safe and healthy over the holiday and we look forward to seeing you when we return to school!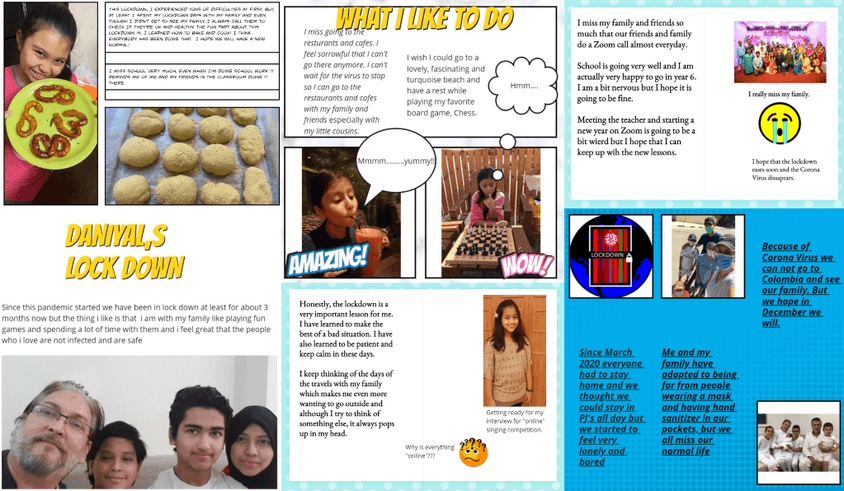 Another fantastic week in Year 6 completed, this week has yet again been a very busy one! We have been focusing on Ancient and Modern Olympics and how they have changed over time. Children focused on different games and researched information on the different aspects of the Olympics.
Speaking of change Year 6 children have had the time to meet their Year 7 teachers and have had a look into what student life in secondary school will be like.
This is the last academic year week. Wow! What a great year it has been, despite the difficult circumstances children in Year 6 have done an incredible job completing learning tasks online. We would like to thank all the parents and students in year 6 for their input, teamwork and resilience during the year especially with online learning since we know it can't have been easy for you.
Well done and congratulations to all the students on successfully completing their primary education! Have a lovely summer break and stay safe.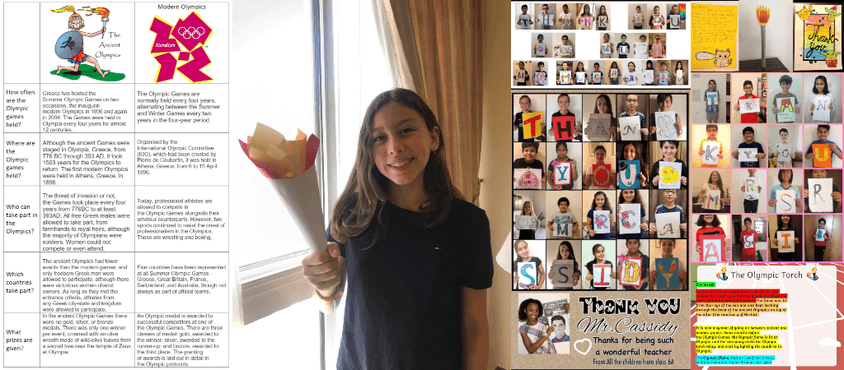 We have reached the end of the academic year and our students have achieved excellent success and progress in their academic outcomes.
Our students have made excellent progress to reach their goals and we have assisted and supported their development to succeed throughout the year.
We wish them all the best and look forward to the 2020-2021 academic school year with the best students in the world! Oryx International School students!
Have a lovely and restful vacation and always remember to stay safe.
This week in our primary MFL lessons, Year 6 students took on their last piece of work on theme parks. Mr. O' Mahony has been very impressed with your work so far!
Year 3 finished learning about "les Animaux" with Ms Hernandez, using games to learn their key vocabulary
Year 1 and 2 finished learning about clothes and fashion!
Felices fiestas a todos and bonnes vacances tout le monde !
What a fantastic year it has been for Music. We want to thank you all for your hard work, both in school and at home. We have really enjoyed watching the hundreds of videos you have sent us over the last few months. We have truly enjoyed seeing you grow as young, talented musicians.
A very special mention must go to the choir members who participated in our virtual choir song. Learning a new song is never easy, but having to record yourself singing it at home certainly takes a lot of courage, so well done. I sincerely hope that you enjoy watching their fabulous performance – I know you will not be disappointed!
This week, the Music and PE Departments joined together for the end of year Dance Challenge. We loved watching all your funky dance moves, and have made a fun video montage to share with you all. Enjoy!
Keep playing, singing, performing and doing all things musical. We cannot wait to start another fun-filled year of music in September.
Have a great summer, everyone!
We are now into our final week of the school year and although it has been challenging, you have all adapted as best you could and we are so impressed with the efforts you have made to stay active in PE.
This week we teamed up with the Music Department and created a dance lesson for you all to the song ''Can't stop the feeling''. We had some fantastic entries and thoroughly enjoyed watching all the fun routines you made.
As we approach the summer holidays, we strongly encourage our students to stay active and on the move as much as possible and reduce your screen time. Walking, cycling, swimming, skipping, playing with friends, dancing or completing fitness exercises are all fantastic ways to stay active.
We want to thank you all for your hard work and resilience during this term and we hope you all have a wonderful and relaxed summer.
See you in the next academic year athletes!