Dear Parents,
We have been extremely busy over January and February on the sports arena, please find below some of the activities we have participated in.
U16 Girls Football v Qatar Academy - Our girls did very well to hold off Qatar Academy. This game finished 0-0 with a strong performance from Inaya in Year 9.
U16 Girls Football v Mesaieed International School - This game finished 0-0 after a hard fought battle to hold off Mesaieed's girls football team who are currently top of the table.
Year 3&4 Mixed athletics- Oryx came 4th out of 15 schools.
U19 Boys Football had a very close defeat against Gems American Academy in their first game of the season with the final score ending up at 35-45.
U14 Girls Football team beat ISLQ on Monday this weekend with a fantastic scoreline of 3-1.
Our U14 Boys Football team beat Newton Barwa last week in their final game of the season with a fantastic scoreline of 3-1.
U13 BISQ (British International Schools Qatar) Games - Our students showed excellent determination, skills and sportsmanship throughout the weekend of the BISQ games. We showcased well in both the boys and girls football tournaments with consistent efforts from our students. Our swimmers had some excellent individual performances in the swimming gala with CJ coming first in all his races. On the final day our students finished the weekend with the track and field events with some top finishers in the 100m, 200m, shotput and Relays.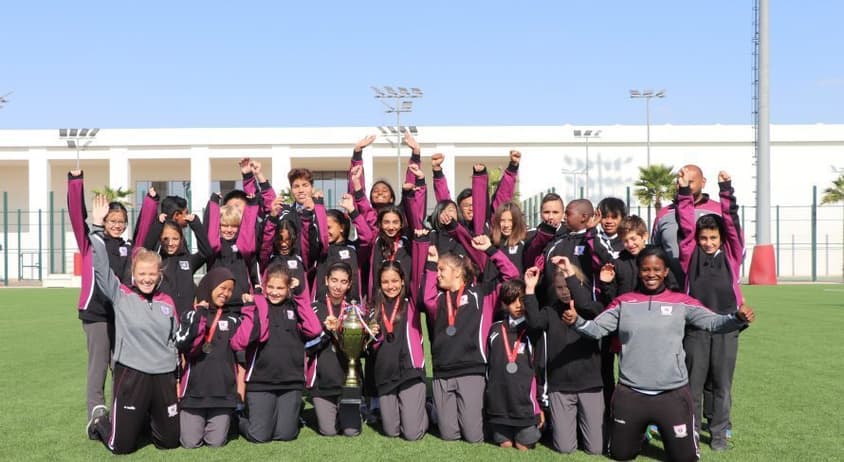 Year 7 – 11 Cross Country - Our secondary cross country team did us proud at the QUESS cross country meet with some great performances over the 2km and 4km distances. Anvitha Irini in year 11 finished 4th in the 4k.