Dear Parents,
This week, our primary children have had the opportunity to be involved in zoom sessions. I do hope that parents found the Zoom instructions (posted by class teachers on Dojo) clear and useful. The feedback from parents has been very positive as the children have been delighted to see their friends as well as having additional support from their teachers. Zoom sessions are also taking place to support our SEN and EAL(starter) students: parents have all been sent Zoom invites for these sessions but if you feel your child should be involved and hasn't received an invite, please contact our Inclusion team at Michael.peacock@oryxschool.qa
I would like to take the opportunity to thank all our teachers and support staff who are doing a sterling job of supporting on-line learning; like parents, they have found the situation somewhat challenging but have risen to the occasion and their support and positivity is very much appreciated.
The migration to Canvas for our pupils in Y5 & Y6 this week has gone smoothly. My thanks to Chetan Mistry, our Primary Canvas Champion, who has created our Primary guides and navigation support videos for parents and to the Y5 and Y6 teaching teams who have ensured the successful transfer. These 'How to..' documents can be found in the Canvas section of the school website here. Some parents have found that the Canvas App downloaded to an iPad doesn't give all the same features as a Laptop. However, I have been assured that if parents go via Safari browser then the iPad access will be the same as a Laptop. If parents require any support or additional information regarding Canvas in Y5 & Y6 please contact Mr. Cassidy (Y6) or Mr. Mistry (Y5). Mrs. Leanne Wood is our Canvas Champion for Y3 & Y4. She is proactively ensuring the Y3 and Y4 teams are well prepared for their migration which will be in the next few weeks.
Stay safe.

Kind regards,
Andrea Smith
Head of Primary
The Inclusion Team – SEND and EAL Support
It has been another brilliant week of Zoom sessions with our students requiring support with English or extra support in other subject areas. The additional face-to-face time with the students has not only been received positively by the students and parents, but the Inclusion Team are delighted to be able to see the students' happy, smiling faces again. Even more pleasing is the attitude and behaviour being seen in the Zoom sessions, with students even raising their hands to contribute or answer questions. Keep up the hard work – you're all (students and parents) doing great!
Please remember, if your child has any worries, concerns, or anxieties and would like to talk to someone at school please reiterate to them that they can contact our school counsellor, Miss Bunmi, at oluwabunmi.tobun@oryxschool.qa.
She can also be contacted by giving her a call on 66011301 from Sunday to Thursday between 8:30-9:30 am and 12:30-1:30 pm. She's always happy to listen and provide reassurance.
Ahoy me hearties! What a fun filled week of pirate adventures FS1 have had. We began the week by making our own treasure chest before using positional language in Wednesday's Math's lesson to find some pirate treasure to put into our treasure chests.
In Literacy the children were learning some new pirate vocabulary: hook, map, telescope and compass, which they used to create a picture list. Finally, FS1 also got the opportunity to try out Education City for the first time this week and it is safe to say they love it!
Congratulations everyone! We are continually amazed by your efforts, particularly in Phonics, as many FS1 children have started to blend sounds to read cvc words, absolutely amazing! You should all be very proud of your fantastic effort this week! Let's hear a YOHOHO for all the boys and girls in the FS1 pirate crew!
This week in Foundation Stage 2 we continued with the story of The Gingerbread Bread Man. In Literacy we looked at the differences between a fox and a human. We used our knowledge of phonics to help us to write words and sentences independently. In Numeracy we discussed our daily routines to think about the different times of the day and what activities we carried out. We revised our days of the week and talked about what day comes before or after. Next week we will be reading the story of Goldilocks and the Three Bears and carrying out some very exciting activities.
Year 1 have had a super, hardworking week this week. The children have been continuing their Term 3 topic of Superheroes, completing a range of tasks linked to the topic in both English and Maths. In English, the children learned how to use the 'un' prefix and have just started learning about newspaper articles and their features. In Maths, the children have been working super hard, counting in and multiplying by 2s, 5s an 10s. The children are working so hard and myself and the Year 1 team are so proud of them all.
It has been another great week in Year Two, with some terrific work being submitted daily. Teachers are really pleased to see the level of commitment from all the children and have loved seeing everyone on our zoom sessions. In science, this week we have been creating art collages using natural and man-made materials from around our homes.
Next week, we will be focusing on fractions and identifying features within poetry.
This has been another fantastic week in year 3! We are very impressed with the quality of letters written and the chewing gum inventions children have thought of for Mr. Wonka! We are proud of each and every one of you, keep up the hard work!
Next week, we will be focusing further multiplication and division facts. In English, we will find out what happens to Verruca Salt! Stay tuned.
Year 4 have been having fun this week learning about metaphors, similes and onomatopoeia. Next week we will be using these skills to produce some interesting poetry. In Maths we have been using our addition and subtraction skills to solve money problems. In topic we have been looking at where all the rainforests in the word are located. Next week we will be looking at the key aspects of tropical rainforests.
This week the children in Year 5 have been busy migrating over to CANVAS, so far they have all done a brilliant job at handling the transition and ensuring the work they hand in is at a high standard.
Earlier on in the week the children got to be "Scientists", where they conducted an experiment involving floating eggs, in the photo you can see some of our results and the children thoroughly enjoyed doing it.
Next week we will be continuing our learning on our new VLE platform CANVAS.
We have now transitioned over to CANVAS and we must say how impressed we all are with the children's adaptability and resilience in coping with the changes. Many of the classes have moved over seamlessly and it has not affected the usual, high standard of work submitted on a daily basis.
In English this week, children have continued to look at writing persuasively in order to convince their reader to agree with their point of view or argument. Specifically, we asked the children to write a balanced letter to Mr. Laidlaw, stressing their views on whether or not our school should be re-opened and weighing up the pros and cons of both arguments.
In Maths, the Year 6 pupils had the opportunity to explore scale and rate throughout the various challenges set for them. We looked at scale models of real-life objects as a fraction of their actual counterparts. We revised how to enlarge or shrink an object depending on the scale factor and looked at rates of growth and speed over distance etc.
For PSHE, the children discussed hopes and fears about moving on into Secondary for next year. They were asked to create PowerPoints listing their burning questions about Year 7 life. We have now passed on these wonderful submissions to the current Year 7s in order to gain some more insight and allay some of the more pressing concerns of a Year 6 pupil in summer term.
At this point, we would like to wish everyone a safe and carefree weekend. Our thoughts especially go out to those of you who are fasting during the holy month of Ramadan.
All the best, the Year 6 team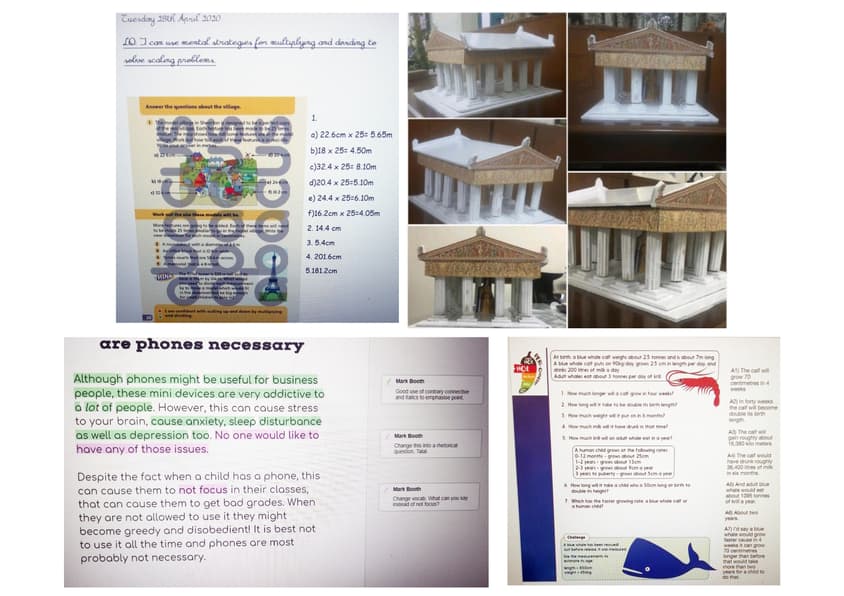 Year 5 and 6 and moved to the new Canvas VLE program.
Our students learned reading and grammar skills in Arabic. Some of our students participated in extra-curricular activities and Ramadan competitions provided by the Heritage Village, Katara. Katara supports Islamic and Qatari culture and is interested in preserving the beauty of the Arabic language for the future of our youth.
Thank you to our students for their hard work this week.
This week in our primary MFL lessons, Year 6 French students enjoyed doing word searches to practice their vocabulary and writing simple opinions. Many students timed themselves and competed to see who could get the best time. Year 5 Spanish students continued to learn about the time, completing their worksheets to a high standard this week

Year 2 students played some fun language games for Ms. Hernandez. Some parents joined in too and noughts and crosses seems to be the most popular choice!
Years 5 and 6 have now moved to Canvas and this new platform will offer us many opportunities to try new things in the coming weeks. The MFL department will be trying out some of the new technology that is available to us, such as Wakelet and Flipgrid, and using these applications to make our teaching approaches more engaging and more fun.
This week in primary PE students have been able to try out our next set of weekly challenges that the PE teachers have been setting. These challenges have been set to give students a break and allow them to compete against the other boys and girls in their year group. Well done to all our students who created PE equipment for earth day. There was some amazing designs and brilliant ideas shared with us.
Just a reminder that throughout the month of Ramadan, it is encouraged that students still complete their online PE lessons. The PE teachers have been mindful that some students may be fasting and have created activities that are not too demanding. We would greatly appreciate if all students complete their lessons as normal and take additional breaks if they need to.