Welcome to the summer term!
I would like to thank our primary school community for the superb way they are embracing online learning. This is a situation none of us wishes to be in but we have to move forward positively and do our very best in these circumstances. Realistically, we are unable to reproduce the dynamics of our school on-line: the classroom interactions and the hustle and bustle of daily school life, but what we can do is continuously reflect on our provision to ensure we continue to provide the Oryx five-star vision.
Home learning can be challenging for parents, learners, and teachers. Finding the time and energy to support student schooling at home can be difficult, particularly for those parents who themselves are working from home. At Oryx International we very much value and appreciate the strong home-school partnership we have. Your role in supporting your children is vital and, with this in mind, if you do have any concerns about access to materials, the daily schedule or your child's engagement, please do not hesitate to get in touch.
Over the forthcoming weeks, we will be offering opportunities for parents and teachers to interact, for parental workshops, small group Zoom sessions and class assemblies. Just in case this situation continues, we are currently putting plans in place for our children to meet and get to know their new class teacher: this is particularly important for our new joiners in FS1 and FS2 and our Y6 students who require a smooth transition into our secondary school.
Parents will have noticed that this term our daily structure has changed slightly. You will be aware of the reflection time slot at the beginning of the day where children are asked to respond to marking comments as well as practice key numbers, spelling and reading skills. Following this, three lessons a day are set and the video demonstrations, posted by the teachers, make learning accessible and engaging for all. Children can choose their level of learning through the differentiated tasks and challenges set: in this way, we are meeting the needs of our learners.
It is essential to support social and emotional learning more than ever during this time. Of course, students need to maintain their studies, but there also needs to be time to relax, and have fun. With this in mind, we hope you are enjoying the Oryx Occupier. It is a pleasure to see the videos and photographs that are being posted of families taking opportunities to play, cook, read, sing and dance together. Please keep sending them in.
Stay safe
Kind regards
Andrea Smith
Head of Primary
The Inclusion Team – SEND and EAL Support
A giant well done to all students and parents who have been trying their best to complete their classwork and also any additional work that has been set. I have received feedback from some parents to say that they are finding it hard to keep up with all of the work. Please don't feel under pressure to complete all work set – especially with the supplementary work from the SEND and EAL Team – little and often is the best way forward. Also, remember that your child needs to have regular breaks throughout the day and at the weekends. All of the Inclusion Team are contactable through our online portals if you have any questions or concerns. You can also contact me at Michael.peacock@oryxschool.qa.
Tips for supporting your child at home
Below are 5 tips to help you when you are supporting your child at home with their schoolwork:
Set up a work-friendly area. Make sure children have a well-lit place to complete their work. If possible, keep supplies — paper, pencils, glue, scissors — within reach.
Keep distractions to a minimum. This means no TV, loud music, or phone calls. (Occasionally though, a phone call to a classmate about an assignment can be helpful.)
Be a motivator and monitor. Ask about assignments, quizzes, and tests. Give encouragement, check completed work, and make yourself available for questions and concerns.
Praise their work and efforts. Celebrate their successes and efforts, and display particular work around the house to show you are proud of their achievements.
If there are continuing problems with work, get help. Talk about it with your child's teacher – they're always here to help.
Please remember, if your child has any worries, concerns or anxieties and would like to talk to someone at school please reiterate to them that they can contact our school counsellor, Miss Bunmi, at oluwabunmi.tobun@oryxschool.qa. She's always available to listen and provide reassurance.
Ahoy there!
Welcome back! Here in FS1 we kicked off the week with our new topic "Pirates and Mermaids." Many of the students dressed up as pirates while going on a treasure hunt around the house looking for objects to count out in Maths and crafted paper plate pirates. In Phonics we learned the m, a, s, d, and t sounds getting very creative and thinking of many ways to format the sounds. We will continue to explore Pirates next week.
Arrrrrr me hearties!
FS1 Teachers
In FS2 motivation and fantastic work ethic has continued throughout this week. In Maths, children asked their friends and family in different countries what their favourite fruit is and created a Pictogram. In Literacy, children enjoyed making videos to introduce their family and writing about them. We are starting Fairy Tales next week and our first book is The Gingerbread Man! In Maths, we will be solving problems linked to halving.
Year 1 have had a busy first week back after the holidays. Children have been enjoying their new topic, Superheroes! Boys and girls have read the story Super Worm learned how to use speech bubbles to write a speech and created their own superheroes. In Science, children have been busy learning about and finding lots of different materials around their homes. Everybody is excited to see what their superhero will be getting up to over the coming weeks!
In Year 2 this week we have been completing lots of fun activities. This includes: discussing our relationships, adding money together, completing a Roman reading comprehension and writing our spelling words in a variety of different ways. We are looking forward to starting our 'Uses of everyday materials' topic in science next week.
The year 3 team are really pleased to see the level of enthusiasm from you all during our first week back from the Spring holiday. The standard of descriptive writing has been outstanding and the focus on Math work has been excellent! Thank you for all of your hard work!
Next week, we are looking forward to discover what happens to our favorite characters in Charlie and the Chocolate Factory now they have met Mr. Wonka.
Year 4 have started their new topic this term… Rainforests! They have begun their learning journey into 'The Rainforest'. They have thought about everything they already know and what they want to find out. What do you want to know about the Rainforest? In English, we have looked at comic strip writing. POW! CRASH! Sorry, we have been getting very excited about using action words for dramatic effect.
We have also been using our measuring skills in Maths, discussing how to calculate the area of rectilinear shapes. It has been a really exciting start to the new term and we can't wait for next week's learning.
Continuing researching about the effects of deforestation and how we can help, and also extending our skills as comic strip writers.
'Welcome back after the Spring holidays! In Year 5, we have been busy starting our new topic, "Into The Future". We began this by celebrating the International Day of Human Space Flight and finding out the significance of 12th April 1961 with some great student presentations. We have also started our key text, "The Iron Man" and the children have produced some lovely writing focused on the senses.
Next week we will be exploring the solar system in Science, as well as finding out more about the mysterious Iron Man character in our key text.'
It has been another great week with some fantastic work being submitted daily. This week the children had the opportunity to start reading our new class novel 'Danny the champion fo the World'. The children made predictions of what they thought the book was going to be about and used their inference skills to solve this. In Maths we were focusing on solving decimal problems. We had to order, add, & multiply decimals, which was really challenging. I have been very pleased with the quality of the work submitted and very happy that the children have been using our morning reflection period very effectively. Keep up the great work Year 6!
Greetings from the PE Department! I hope everyone has had a great first week back to school and are ready for some Term 3 PE fun.
It was a wonderful week and a great start for our students for the third term in Arabic. They learned new skills in language such as reading Arabic poetry and were acquainted with new fields in Islamic education in the lessons of interpretation and explanation of the Holy Quran.
In Qatari history, the students learned about the history of civilizations within the country.
What a great first week back! Well done to everyone that has submitted their music tasks this week. We have had some wonderful performances from KS1 using their homemade instruments and have seen some wonderfully unique homemade instruments from KS2.
Next week we will be sending some fun music challenges for you all, so keep a lookout for them!
Thank you to the choir members that are putting in the effort to learn the new songs that I have sent, if you would like to send a video of yourselves singing, we would love to see them.
Keep singing everyone!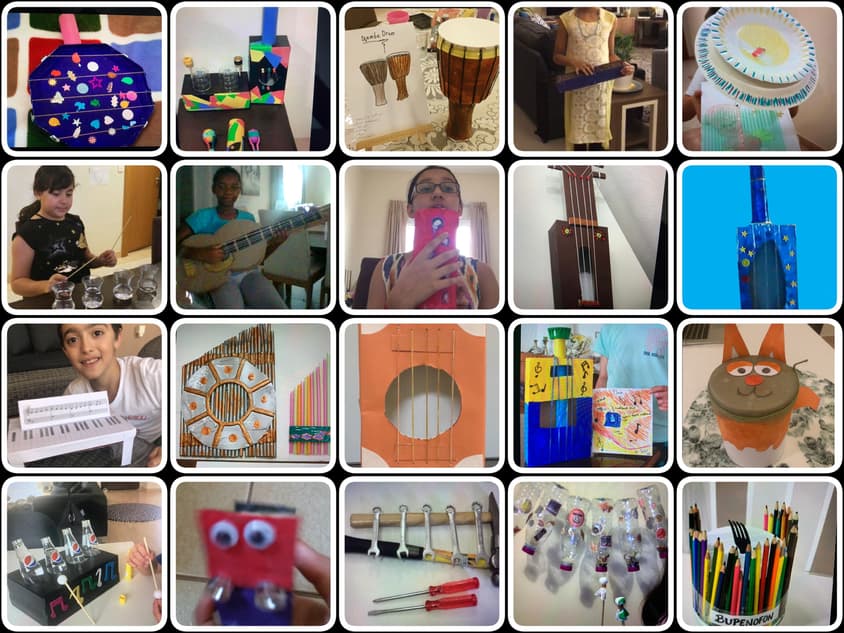 This week in our primary MFL lessons, Year 6 French students loved creating their own menus on their favourite foods. Much of the work presented by students was so colourful and creative. Your teacher really loved looking over your work this week. Year 5 Spanish students continued to learn about their Houses, providing interesting work for their teacher, who is learning so much about you.
Younger students, from Years 1 to Year 4, are still new to French and fortifying their knowledge of the basic structures. This will be key as they move into the higher Year groups and secondary.
MFL teachers are now providing videos to all French and Spanish class groups in order to help students and parents alike. Hopefully, as we improve ourselves as video content creators, this will aid you more and more with both comprehension and motivation!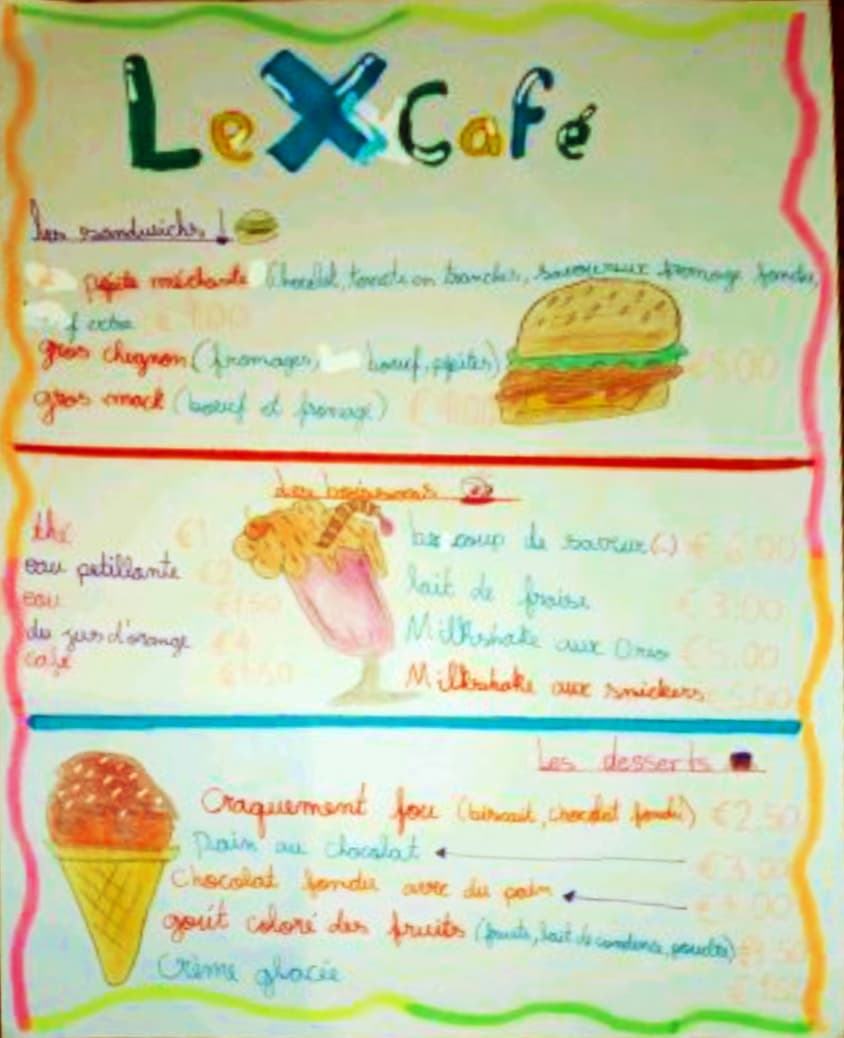 This week in primary PE students have been busy staying active and completing our tasks. Students have had the opportunity to practice their underarm throwing technique, football, and basketball dribbling skills. strength training and some classes have been designing new kits for the Qatar National team.
We are extremely pleased with how hard everyone has been working and we look forward to seeing more of you in action next week.
Keep it up, athletes!