The auditorium from ground level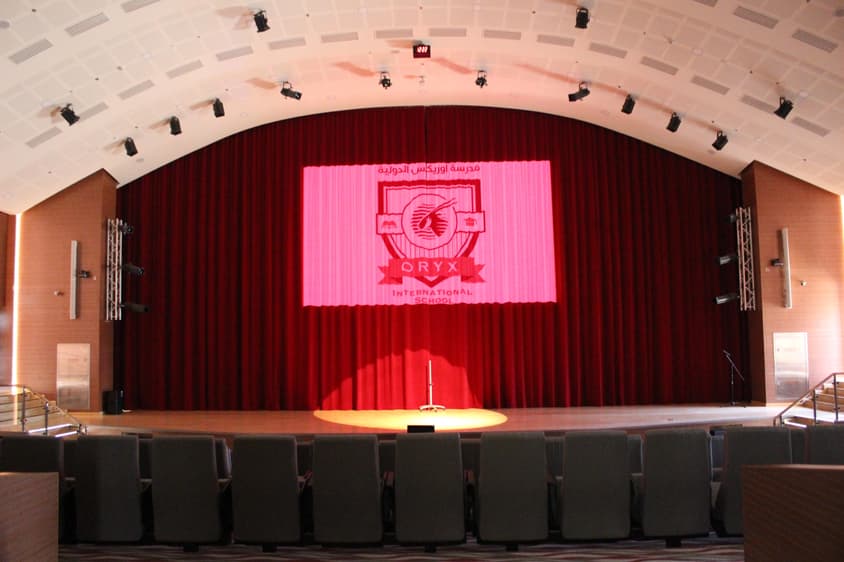 Dear Parents,
As we approach our mid-term break, I am very pleased that we are making very good progress in our development of the school. After the challenges of last term, we are on a firm footing and continuing to implement and develop many of our policies and practices to support our learning programmes.
My colleagues and I have been interviewing many candidates for teaching posts for the next academic year and those who have visited the school have all been amazed at how well settled the children and staff are in such a short period of time. They spoke in glowing terms about the warm, friendly atmosphere in school and particularly about how impressed they were with our children, which they described as delightful, charming, confident, articulate and enthusiastic learners. This is high praise indeed and I am very proud that our school community is fostering such commendable characteristics in our children. I am grateful to all the parents, students and staff who were involved with the interview process for some of our candidates this week; your input has been valuable, insightful and welcomed. It is this level of inclusiveness which I am striving for at Oryx, which will enable us to grow as an open, inclusive and collegiate community.
I am very pleased that several parents have volunteered as helpers at school. I would like to extend this to parents who can assist with our sport and performing arts programmes for After School Activities. If you would be interested in assisting with these please complete a Parent Volunteer Form (available from the office) and indicate what areas of assistance you can offer.
After mid-term we will start our next programme of ASAs and we will be implementing our swimming lessons during PE time. We will send out a Swimming Permission and Competency form for you to sign and return before your child can receive swimming lessons.
I would ask that parents who have not yet collected a parent lanyard do so as soon as possible. It is imperative that all adults on school grounds during the school day are wearing identification. Thank you.
I wish you an enjoyable mid-term break.
Regards,
Derek Laidlaw